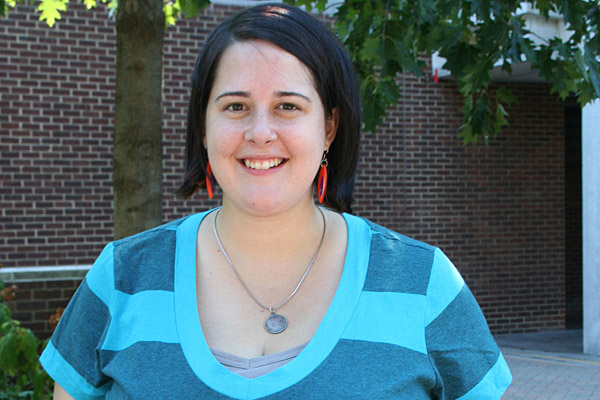 Fulbright winner
UD history alum wins Fulbright Award to conduct research in Canada
8:53 a.m., May 31, 2012--Kate Duffy, a recent graduate degree recipient from the University of Delaware, has been selected to receive a prestigious Fulbright U.S. Student Award for 2012-13.
Duffy, who received her master of arts in history and a certificate in museum studies at UD on May 26, won the Fulbright appointment to conduct research in Montreal, Canada, for a digital history project.
Fulbright awards
Three University of Delaware students and an alumna have received word this spring that they will travel abroad as part of the newest class of Fulbright Student Program award winners.
Peace Corps plans
Two University of Delaware students, John McCarron and Bridgette Spritz, have been selected as Peace Corps volunteers and will serve in Ghana and Rwanda.
Duffy's project, "Ruins of Quebec," will examine how the vestiges of the past, as embedded in the built environment, function as unofficial, ephemeral "sites of memory." She will do her research in local archives and conduct oral history interviews. Her work eventually will lead to an interpretive project in digital history.
"I'm thrilled to be heading to Quebec for the next academic year," Duffy said. "Through the Fulbright U.S. Student Program, I have the opportunity to research urban history and the built environment in Montreal."
Duffy added, "I can't express enough gratitude to the faculty of the Department of History at UD. I feel fortunate to have spent the last two years here, absorbing new ideas and perspectives. I am leaving not just with a master's degree, but with a transformed view of the world."
At UD, Duffy was named the Museum Studies graduate assistant for 2010-11. Prior to her UD degree, she worked for four years in grants management, most recently as the associate director of development for the Philadelphia Mural Arts Program.
Katherine C. (Kasey) Grier, professor of history and director of the Museum Studies Program at UD, says, "The Fulbright U.S. Student Program fellowship program is highly competitive. Kate's project represents a relatively new direction toward more support for digital humanities and public history. The project will enhance Kate's more 'traditional' academic skills while also helping her gain more experience in outreach to public audiences."
Duffy joins UD doctoral students Isabelle Havet and Ann Peng and Honors international relations alumna Liza Melms as winners of U.S. Fulbright scholarships or teaching assistantships for calendar year 2012-13. They will be traveling to different parts of the world —Turkey, France and Indonesia — to continue their education. Additionally, Kelsey Prima received a teaching assistantship in Austria from the Austrian Federal Ministry for Education, Arts and Culture through a Fulbright-affiliated program. 
The Fulbright Program awards nearly 8,000 competitive, merit-based grants each year in most academic disciplines and fields of study.
For more information visit the Fulbright website.
Article by Fariba Amini