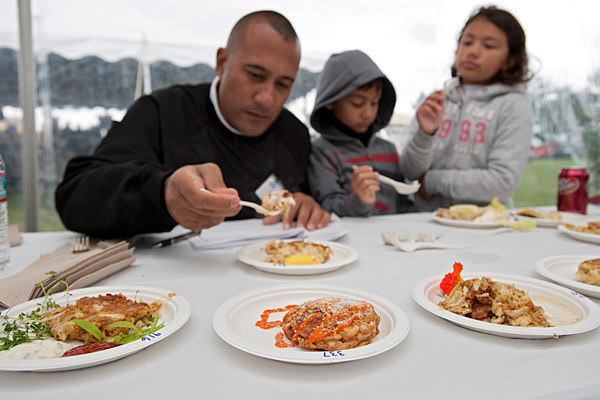 Coast Day event
Trivia contest gives new entree to becoming a judge at Crab Cake Cook-Off
1:31 p.m., May 31, 2012--There's a new way to earn a coveted spot as a judge at the Coast Day Crab Cake Cook-Off -- take an online quiz to be entered to win the taste-testing privilege.
"People always ask if there's another way to become a judge besides receiving first place in the Cook-Off the year prior," said organizer Doris Hicks, seafood technology specialist for Delaware Sea Grant. "So we decided to test potential judges' crab knowledge with a trivia contest, and one lucky winner will be randomly selected from among the top scorers."
From graduates, faculty
As it neared time for the processional to open the University of Delaware Commencement ceremonies, graduating students and faculty members shared their feelings about what the event means to them.
Doctoral hooding
It was a day of triumph, cheers and collective relief as more than 160 students from 21 nations participated in the University of Delaware's Doctoral Hooding Convocation held Friday morning on The Green.
Answers to the 20-question quiz must be submitted by July 25. The winner and other judges will sample all eight finalists' entries at Coast Day on Sunday, Oct. 7, at the University of Delaware's Hugh R. Sharp Campus in Lewes, Del.
Sponsored by the Delaware Sea Grant College Program and the University of Delaware College of Earth, Ocean, and Environment, Coast Day is an annual educational festival and showcase for Delaware's rich marine resources.
For cooks hoping to win the glory the old-fashioned way, crab cake recipes for the Cook-Off must be submitted by Aug. 10. Eight finalists will compete for cash prizes, a plaque and the opportunity to return as a judge next year. 
All crab cakes must be made from 100 percent blue crab meat. Each finalist will receive two pounds of jumbo lump blue-crab meat to use the day of the competition. All other ingredients and cooking utensils are the contestants' responsibility. Judging will be based on originality, predominance of crabmeat, taste and texture.
Visit www.decoastday.org to download the complete set of contest rules and an entry form or contact Delaware Sea Grant at 302-645-4346 or mkscorzi@udel.edu for a printed version. 
Article by Teresa Messmore 
Photo by Evan Krape