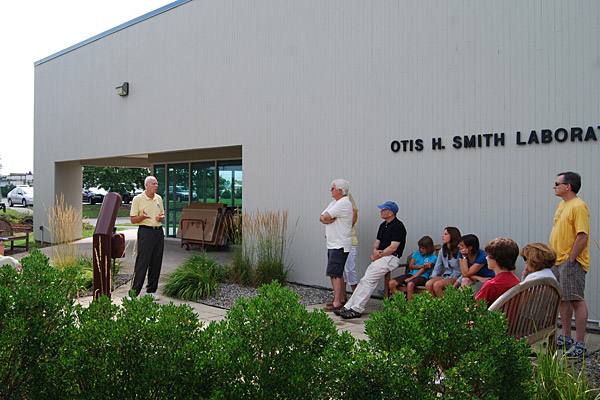 Lewes tours
Public can tour UD's Hugh R. Sharp Campus in Lewes this summer
1:57 p.m., May 18, 2012--The University of Delaware's College of Earth, Ocean, and Environment (CEOE) is offering free guided tours of the Hugh R. Sharp Campus in Lewes throughout the summer, providing a firsthand look at marine science.
Tours typically begin with a 20-minute video showcasing ways that CEOE researchers and students are exploring the planet, identifying problems and developing solutions. Guides then take groups on a walking tour of the facilities, which include scientific laboratories, research ships and a 2-megawatt wind turbine powering campus facilities.
From graduates, faculty
As it neared time for the processional to open the University of Delaware Commencement ceremonies, graduating students and faculty members shared their feelings about what the event means to them.
Doctoral hooding
It was a day of triumph, cheers and collective relief as more than 160 students from 21 nations participated in the University of Delaware's Doctoral Hooding Convocation held Friday morning on The Green.
Touring groups experience the multi-screen 3-D Google Earth display, demonstrating how scientists use satellites, surface monitors and underwater robots to study oceans. Exhibits show how researchers study extreme environments such as the frigid, ice-covered ecosystems of the Antarctic and the super-heated hydrothermal vents of the ocean floor.
A coral reef tank introduces visitors to issues of ocean warming and acidification, while newly installed aquaria illustrate habitats and marine life in Delaware Bay. Other local topics include horseshoe crabs, invasive species and oyster restoration projects.
Tours also visit a large greenhouse where scientists are investigating salt marsh plants that can withstand rising sea levels and filter land-based pollution before it enters waterways.
Tours begin at 10 a.m. on Fridays in June and on both Tuesdays and Fridays in July, August and early September. For reservations, call 302-645-4346 or e-mail mkscorzi@udel.edu.
Article by Teresa Messmore
Photo by Lisa Tossey