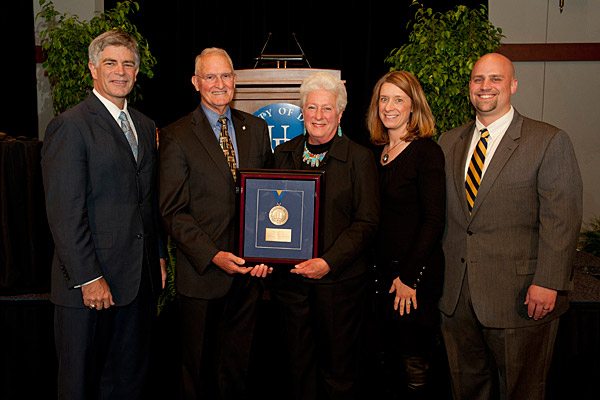 Celebrating generosity
Scholarship donors and recipients join together to share common bonds
9:54 a.m., May 17, 2012--The May 10 Celebration of Scholarship reception at Clayton Hall was a night to commemorate the generosity of those individuals who support University of Delaware students through undergraduate scholarships.  It was also an evening to galvanize current UD scholarship recipients with inspirational stories of how giving back can make a difference in their lives and the lives of others.
The evening was hosted by University President Patrick Harker and was attended by approximately 265 scholarship supporters, recipients and University staff.  Guests were encouraged to mingle and share with one another how giving or receiving scholarship funds has made a difference in their lives.
From graduates, faculty
As it neared time for the processional to open the University of Delaware Commencement ceremonies, graduating students and faculty members shared their feelings about what the event means to them.
Doctoral hooding
It was a day of triumph, cheers and collective relief as more than 160 students from 21 nations participated in the University of Delaware's Doctoral Hooding Convocation held Friday morning on The Green.
"I hope you'll be back here some years down the road, in the role of patron instead of student," said Harker, addressing the students, "and I hope you'll take as much from that evening as this one."
Harker also had the privilege of awarding the second annual President's Award for Philanthropic Commitment, which recognizes a donor or donor family whose scholarship support has had a significant impact on the University and its undergraduates. 
This year's recipients, Burt and Jenny Chase, met in 1958 while undergraduates at UD. They immediately began to give back to the University through the Charles Lanier Scholarship Fund, named for a UD professor who greatly influenced Burt Chase, and the Gilbert E. Chase Family Scholarship, named in honor of Chase's father, the fund's creator and a 1933 UD alumnus. The Chases also have been ardent supporters of the UD Athletic Fund.
According to Burt Chase, "We were surprised, appreciative, and very honored to receive this award. We have been to all four Celebration of Scholarship events. The scholars are all very impressive and friendly. We are already looking forward to next year's event." 
Two current student awardees spoke on behalf of the 2012 undergraduate scholarship recipients.  Iman Shamloul is a junior from Newark, Del., and a triple major in biological sciences, liberal studies and women's studies.  She is a Dean's List student in the Honors Program, the president of the Multicultural Student Organization and the recipient of the Jamie Benes Scholarship and the Howard L. Robertson, Sr., and Jesse Selinkoff Memorial Scholarship.
Recounting her experience at the event, Shamloul said, "It is truly an honor to be chosen to speak at the Celebration of Scholarship. It felt wonderful to be able to thank the people who have made a difference in not only my life, but in the lives of all the other students. They were able to open up a world of opportunities for us that would not have been possible before."
Jimmy Wu, a senior finance major and economics minor from Gaithersburg, Md., also spoke during the event. Wu is a Dean's Scholar and the recipient of the W. Alvon Sparks Jr. Endowed Business Scholarship.
In speaking to the guests about his scholarship benefactors, Alvon and Helen Sparks, Wu commented, "Before tonight, we never had any contact, but their generosity through the years makes them feel like family. It has taught me to never take anything for granted, to work hard, and to always remember that eventually good things will come."
Wu continued, "It's amazing how one couple's generosity can make such a difference in a young life, and I look forward to the time when I can begin to share the same level of selfless generosity that the Sparks have shown me."
Article by Shannon Pote
Photo by Kathy F. Atkinson