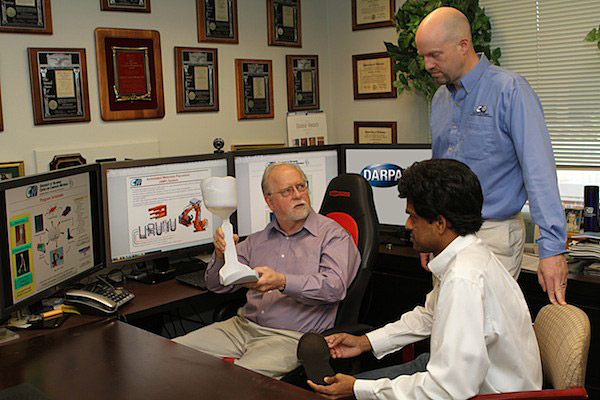 Designed for action
Research focuses on manufacturing composite orthotics for injured soldiers
10:14 a.m., May 4, 2012--Imagine being able to use a 3-D "printer" to produce a custom orthotic device for a soldier with a severe lower extremity injury. Constructed of strong and durable yet lightweight composite materials, the device is designed to meet the user's specific needs. It can be fabricated in just 24 hours, and its "tunable" properties allow it to be modified to meet the wounded warrior's changing needs over the course of rehabilitation.
This description may sound like the stuff of futuristic medical fiction, but it's actually the objective of a new research program at the University of Delaware Center for Composite Materials (CCM).
Chronic wounds
UD's Millicent Sullivan and Kristi Kiick have received a $1.4 million grant from the National Institutes of Health for research that could provide a new approach to the treatment of chronic wounds.
Prof. Heck's legacy
The American Chemical Society is highlighting the legacy of the late Nobel laureate Richard Heck, the Willis F. Harrington Professor Emeritus of Chemistry at the University of Delaware with a digital tribute on its publications website.
Led by Jack Gillespie and Shridhar Yarlagadda, CCM recently received a grant from the Defense Advanced Research Projects Agency (DARPA) to develop a rapid prototyping process for the manufacture of advanced passive dynamic ankle-foot orthoses (PD-AFOs) for injured soldiers. The three-year, $3-million project will be carried out in collaboration with UD's BADER Consortium, which will enable the new devices to be tested in clinical trials.
Steven Stanhope, who leads the BADER Consortium and is a co-investigator on the new DARPA project, explains that PD-AFOs, which use a spring-like action to mimic the normal motion of the ankle, are enabling wounded warriors to retrain not only for a vigorous recreational lifestyle but also for active duty. 
With a process known as additive manufacturing, in which 3-D solid objects are built up in layers from digital files, Stanhope has invented a patent pending process for the rapid manufacture of PD-AFOs from "neat," or unreinforced polymers. However, these materials are limited in strength and durability, and the devices must be thick and heavy to meet the soldier's need for active duty.
In contrast, high-performance composites can reduce device size and offer improved mobility.
"If we can take full advantage of composites — which are 40 times stiffer and stronger than conventional materials — we can pare these devices down to the point where they will be thin enough to be readily worn within a shoe," Gillespie says.  "We can also use the anisotropic properties of composites to 'stiffness tune' a device to an individual patient's impairment profile, enabling an unprecedented level of customization, not just initially but on a continuing basis." 
However, customized composite devices require labor-intensive and specialized skills to fabricate, so the DARPA-funded research is aimed at marrying the rapid production enabled by additive manufacturing with the performance advantages of composites.
That sounds like a tall order, but the new program builds on CCM's well-developed composites manufacturing science base.
"Our goal is to develop integrated tools for manufacturing to meet the system requirements," says Yarlagadda, who directs other DARPA-funded composites manufacturing research at CCM. He explains that those tools include process models, composites analysis, composites design, materials selection, process engineering, and manufacturing workcells in a continuous feedback loop centered on the requirements of the application. 
In the new project, those tools will be complemented by patient data, patient foot scans, and biomechanics-based prescriptions for devices provided through the BADER Consortium. 
"This is a perfect collaboration," says Gillespie, "with CCM providing the engineering design, materials, and processes for composites and the BADER Consortium providing the network for clinical trials. Once the prototypes are manufactured, they will be tested on wounded warriors, who will provide us with valuable feedback for continuous improvement of the rapid prototyping process."
Yarlagadda points out that the potential benefits go far beyond orthoses for injured soldiers. "Many of the technological advances that we take for granted today had their roots in military programs," he says. 
"Also, everything we do here at CCM contributes to the manufacturing science base that center researchers began building almost four decades ago. It doesn't matter whether the system is a military vehicle or an orthotic device — what we're learning here will advance the state of the art of composites in general." 
About the research team
John W. (Jack) Gillespie Jr. is director of the Center for Composite Materials at the University of Delaware. He is also the Donald C. Phillips Professor of Civil Engineering and holds a joint faculty appointment in the Department of Materials Science and Engineering.
Shridhar Yarlagadda is assistant director for research at CCM and research professor of electrical and computer engineering.
About the BADER Consortium 
The BADER Consortium is a collaboration of core civilian medical centers, four military treatment facilities and 14 affiliates throughout the United States, unified to identify and address critical issues challenging the recovery of combat and civilian extremity trauma patients. The BADER Consortium is funded by the Department of Defense and led by the University of Delaware. Steven Stanhope, professor in the Department of Kinesiology and Applied Physiology, serves as director.
About the Center for Composite Materials
Founded in 1974, CCM conducts basic and applied research, educates scientists and engineers, and develops and transitions technology. Since 1985, CCM has been designated a center of excellence through seven programs. The center has some 250 affiliated personnel, more than $12 million in annual expenditures and over 2,000 alumni worldwide. More than 3,500 companies have benefited from affiliation with CCM over the past 38 years.
Article by Diane Kukich 
Photo by Dawn Fiore