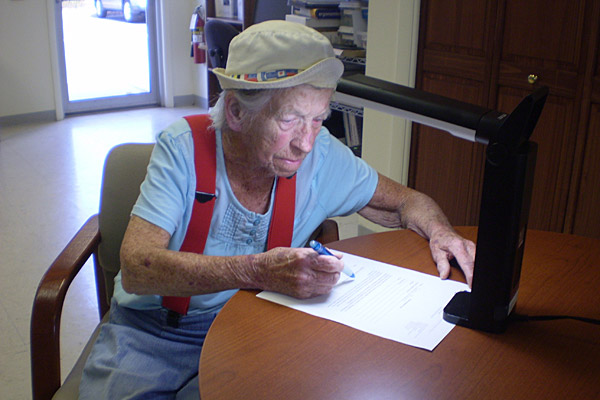 May 16: Assistive Technology open house
Center welcomes Assistive Technology Resource Center to campus
1:36 p.m., May 7, 2012--The University of Delaware now has a full-service Assistive Technology Resource Center (ATRC) on campus, located at the Center for Disabilities Studies (CDS) on Wyoming Road in Newark.
To acquaint the campus community with the ways in which the ATRC supports the academic mission of the University and offers valuable support to students, staff, faculty and their families, CDS will hold an open house on Wednesday, May 16, from 9 a.m. until noon. 
June 5: Blue Hen 5K
University of Delaware graduates planning to attend Alumni Weekend are encouraged to register for the annual Blue Hen 5K walk and run, which will be held Sunday morning, June 5.
June 6-9: Food and culture series
The 20th annual June Lecture Series at the Osher Lifelong Learning Institute at UD in Wilmington will be held June 6-9. Titled 'June a la Carte,' this year's program focuses on great political documents, feminism, world politics and a Newark cuisine sampler.
The Delaware Assistive Technology Initiative (DATI), a program of CDS, has an ATRC in each of Delaware's three counties. The New Castle County ATRC, located for many years at the Nemours/A.I. duPont Hospital for Children, has relocated to the Center for Disabilities Studies on Wyoming Road. 
The resource center houses assistive devices that support learning, working and independent living for people with mobility, sensory, cognitive and communication limitations.
DATI assistive technology specialist Marvin Williams, a biomedical engineer and certified rehabilitation technology practitioner, is on site to assist individuals to find products that meet their needs. 
Williams offers equipment demonstrations to individuals and groups, and is available to speak to University classes and community groups. 
Most equipment at the ATRC is also available for short-term loan, enabling individuals to try out products before they make a purchase decision. 
Because the program receives core support from a grant from the Rehabilitative Services Administration of the U.S. Department of Education, most services are offered at no cost to Delawareans. 
The May 16 open house will feature remarks, beginning at 9:30 a.m., by Lynn Okagaki, dean of the College of Education and Human Development; Thomas Webb, director of the Office of Disabilities Support Services; Cole Galloway, associate professor in the Department of Physical Therapy; and Beth Mineo, director of the Center for Disabilities Studies. Refreshments will be served throughout the morning.
Reservations are requested by Monday, May 14, to bossert@udel.edu. CDS is located at 461 Wyoming Road.