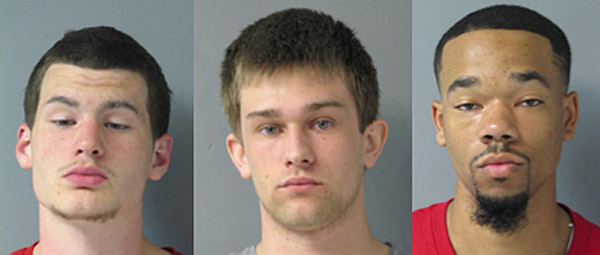 Three arrests
UD Police arrest three in recent incidents
1:34 p.m., May 14, 2012--University of Delaware Police have charged three men in connection with recent unrelated incidents on the Newark campus. 
On Friday, May 11, UD Police arrested Bradley M. Hooks, 20, of Newark, Del., in connection with a series of thefts from vehicles that occurred between April 30 and May 1, on the Laird Campus. 
Hooks was charged with eight counts of theft under $1,500, nine counts of criminal mischief under $1,000, two counts of third degree criminal trespass and one count each of receiving stolen property under $1,500, breach of release and possession of drug paraphernalia. He was committed to Howard Young Correctional Institute in lieu of $5,752 secured bond. 
On Sunday, May 13, Dustin L. Lackford, 21, of Newark, Del., was arrested for theft from a vehicle on the Laird Campus. The crime was observed on campus surveillance video cameras and Lackford was apprehended while the crime was in progress.
Lackford was charged with theft under $1,500 and third degree criminal trespass. He was initially released on $1,100 unsecured bond. After being released, he returned to court, pled guilty to both counts and was sentenced to a fine of $200 plus court costs. 
Also on Sunday, May 13, UD Police arrested Venell F. Proctor, 20, of Townsend, Del. He was issued a parking ticket in the Hollingsworth parking lot at the corner of North College and Cleveland avenues. He confronted the UD parking enforcement officer and assaulted him. 
Proctor was charged with second degree assault, second degree conspiracy, resisting arrest and criminal mischief under $1,000. He was released on $13,100 unsecured bond. Three additional suspects have been identified in this case but have not yet been apprehended.