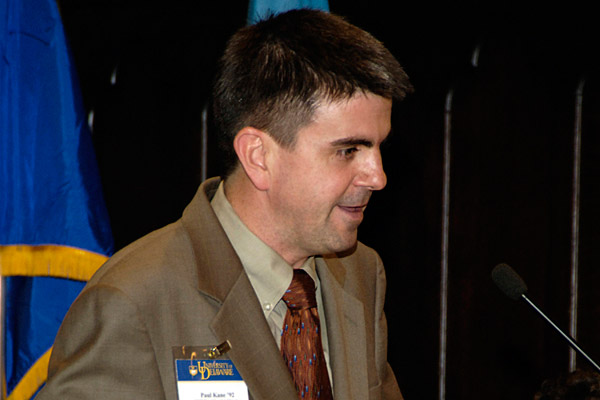 Political chat
Alumni Weekend to feature panel discussion on 2012 election
2:19 p.m., May 14, 2012--Three notable names will leave their desks at the Washington Post, NBC News and the White House and come to Newark this Alumni Weekend.  The trio will discuss politics on Saturday, June 2, at 11:30 a.m. in Gore Hall.
Washington Post political reporter Paul Kane, a 1992 UD alumnus, NBC News political reporter Domenico Montanaro, a 2001 alumnus, and Dan Pfeiffer, a Democratic campaign strategist in the Obama re-election campaign, will join moderator Ralph Begleiter, director of UD's Center for Political Communication, for a panel discussion titled Campaign 2012: Poised for Battle.
'Resilience Engineering'
The University of Delaware's Nii Attoh-Okine recently published a new book with Cambridge University Press, "Resilience Engineering: Models and Analysis."
Reviresco June run
UD ROTC cadets will run from New York City to Miami this month to raise awareness about veterans' affairs.
The event is open to the public.  Registration is required. Visit the Alumni Weekend website to register.
About the panelists
Paul Kane, a member of UD's Class of 1992, is a veteran of congressional coverage since the mid-1990s Gingrich revolution. Now a Washington Post congressional reporter focusing on the GOP House majority, he moved to Washington, D.C., in 1995, starting at States News Service. 
He writes a WashingtonPost.com blog about Congress, and previously wrote for Roll Call. His byline has appeared in the Philadelphia Daily News and the Boston Globe, among others. Kane also spent a year as a copy editor and writing coach for China Daily, the English-language paper in Beijing. 
Kane is a 1992 College of Arts and Sciences graduate.  He majored in political science with a concentration in journalism.
Domenico Montanaro, of UD's Class of 2001, became the deputy political editor for NBC News in September 2011. He joined NBC News in May 2007 as a researcher in the political unit and in September 2009 was named an off-air political reporter.
In addition to being part of the team that writes, reports and edits for the NBC News political blog First Read, he appears on air for MSNBC, and provides editorial guidance for NBC News campaign embeds, NBC Nightly News with Brian Williams, Today, Meet the Press, and MSNBC. He also has reported from Capitol Hill and field produced for the network. 
Montanaro covered the 2006 midterm elections as an associate producer in CBS News' election unit, where he wrote analyses of competitive races and tracked polling and campaign finance. Also at CBS, he worked on the news magazine 48 Hours, where he helped cover the Virginia Tech shootings, among other stories. Prior to joining CBS, he worked as a research analyst for a private investigations firm, taught high school English and journalism, and wrote and edited for the Asbury Park Press in New Jersey. 
Montanaro, a native New Yorker, is a 2007 graduate of the Columbia University Graduate School of Journalism and a 2001 graduate of UD's College of Arts and Sciences.
Dan Pfeiffer, a native of Wilmington, Del., is a Democratic campaign strategist in the Obama re-election campaign. In 2008, Pfeiffer was traveling press secretary, deputy communications director and communications director during the Obama presidential campaign and transition. 
Pfeiffer joined the White House as deputy communications director in January 2009, when he was just 33 years old. In 2000, he was a spokesperson for then Vice President Al Gore. 
He has since worked for Senators Tim Johnson, Tom Daschle, and Evan Bayh. Pfeiffer was formerly a spokesman for Senator Evan Bayh. He graduated magna cum laude from Georgetown University.
About the moderator
Ralph Begleiter is director of the Center for Political Communication at the University of Delaware. He brings more than 30 years of broadcast journalism experience to his award-winning instruction in communication, journalism, and political science. During two decades as CNN's world affairs correspondent, Begleiter was the network's most widely-traveled reporter. He has worked in 100 countries on all seven continents. He continues to travel with UD students to the United Arab Emirates, Cuba, South America, Turkey and Antarctica, and conducts media programs in several countries under the auspices of the U.S. Department of State. 
Since leaving CNN, Begleiter has hosted the Foreign Policy Association's annual Great Decisions television discussion series, produced in association with UD and aired on Public Broadcasting System stations. He has received numerous press awards including, in 1994, the Weintal Prize from Georgetown University's Graduate School of Foreign Service, one of diplomatic reporting's highest honors. In 2008, the Delaware Press Association named him Communicator of Achievement, honoring "a lifetime of achievement in the communications profession… and exemplary service to the community and to humanity as well as to the profession."
In 2009, he earned the College of Arts and Sciences Excellence in Teaching Award. 
He holds an honors bachelor of arts degree in political science from Brown University, a master's degree in journalism from Columbia University, and is a member of the National Honor Society, Phi Beta Kappa.
Article by Andrea Boyle Tippett
Photo by Kathy F. Atkinson