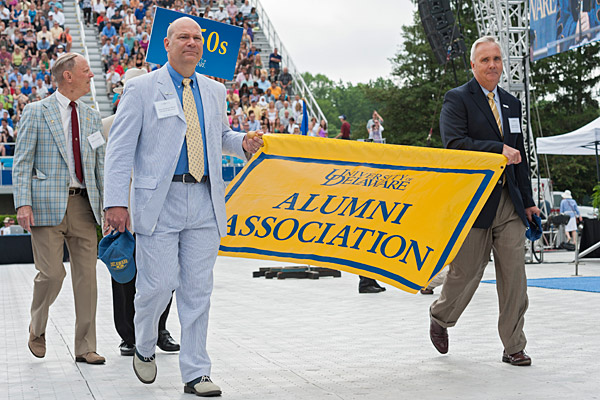 Alumni return
Procession of alumni opens Commencement ceremony
4:25 p.m., May 26, 2012--Alumni from the 1950s through 2012 opened the University of Delaware's 163rd Commencement ceremony May 26 in Delaware Stadium.
The alumni procession represents all UD alumni around the world, which at the conclusion of Saturday's ceremony , number more than 155,000 worldwide.
From graduates, faculty
As it neared time for the processional to open the University of Delaware Commencement ceremonies, graduating students and faculty members shared their feelings about what the event means to them.
Doctoral hooding
It was a day of triumph, cheers and collective relief as more than 160 students from 21 nations participated in the University of Delaware's Doctoral Hooding Convocation held Friday morning on The Green.
Leading the delegates were two outstanding members of the Class of 2012 -- Gealina Dun and Robert Pagels, recipients of the Warner and Taylor awards, respectively. 
Of the more than 80 delegates this year, many were related to individuals receiving  degrees at this year's ceremony.  One graduate, Thomas Coughlan, was represented by six alumni delegates -- his parents, Catherine and James; brother, Michael; sister and brother-in-law, Jennie and Nathan; and family friend, Melissa Wagner. 
Also marching in this year's procession were members of the Class of 1962, celebrating 50 years as Blue Hens.  
In a reception before the ceremony, UD President Patrick Harker welcomed the delegates and said, "You're proof to today's graduates that their ties to UD last a lifetime."
Photo by Evan Krape