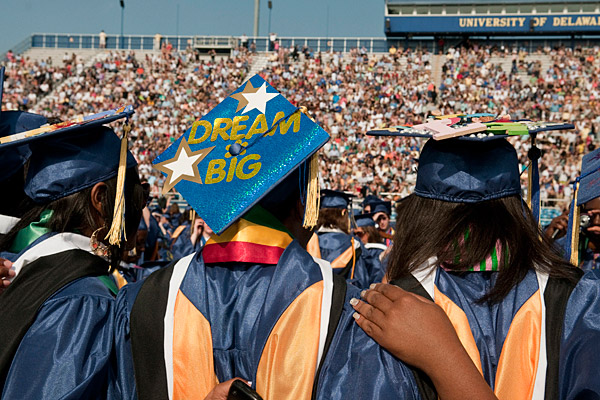 Alumni benefits
University Alumni Association helps students make transition after graduation
8:34 a.m., May 23, 2012--Thousands of seniors scheduled to graduate Saturday, May 26, face many decisions as they look to their futures, from where to work and live to what health and auto insurance to buy. Thanks to the University of Delaware Alumni Association (UDAA), new alumni can take advantage of many benefits and services to make the transition into post-college life a bit easier.
Established in 1846, the UDAA is a dues-free, separate non-profit organization dedicated to engaging the UD alumni community. All alumni of the University of Delaware are automatically inducted into the UDAA upon graduation, signified through its pinning ceremony at convocation each year.
From graduates, faculty
As it neared time for the processional to open the University of Delaware Commencement ceremonies, graduating students and faculty members shared their feelings about what the event means to them.
Doctoral hooding
It was a day of triumph, cheers and collective relief as more than 160 students from 21 nations participated in the University of Delaware's Doctoral Hooding Convocation held Friday morning on The Green.
The association offers discounts on auto and property insurance through Liberty Mutual, an exclusive program through Bank of America, competitive health, life, travel and dental insurance and much more.
There are perks for the University, too. When alumni sign up for these benefits and services, a portion of funds are donated back to the UDAA to subsidize scholarships, national alumni clubs, events, awards and more.
Michael Brophy of the Class of 2012 says he would be interested in many of the benefits the UDAA offers because "up to this point, I haven't really had to worry too much about insurance, thanks to Mom and Dad, but now that I'm going to be an adult, I'm going to have to figure those things out."
For the adventurous alumni who seek to travel the world, the UDAA also offers travel insurance through its Alumni Insurance Program. Ralph Elefante, another member of the Class of 2012, took a leap of faith after graduating in May with a degree in finance to intern for six months in Florida for the Disney College Program. For alumni like Elefante, travel and other types of insurance offered through the UDAA are crucial.
"Take the opportunity to do something different," Elefante advises future alumni. "Take advantage of the freedom that you have following graduation, and do something unique … whether it be interning at Disney, teaching English in a foreign language or another adventure."
The UDAA also helps alumni connect with fellow Blue Hens for social and professional networking through its sponsorship of the UD Alumni Online Community at www.UDconnection.com, a free service exclusive to UD alumni. Through the Online Community, former students can network with other UD graduates, post their résumés and learn more about UD alumni events in their respective cities.
Article by Melissa Cox
Photo by Doug Baker