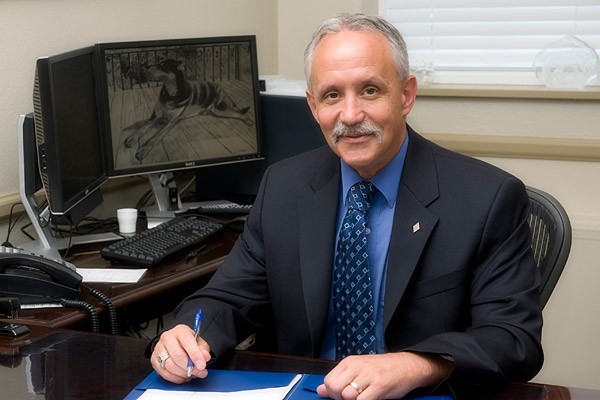 Aloha, Tom
Provost Tom Apple named chancellor of the University of Hawai'i at Manoa
11:53 a.m., May 18, 2012--University of Delaware Provost Tom Apple has been named chancellor of the University of Hawai'i at Mānoa (UH). His appointment was approved by the University of Hawai'i Board of Regents at a May 17 meeting. 
UD President Patrick Harker said, "The University of Delaware is indebted to Tom for seven years of remarkable service -- first as dean of the College of Arts and Sciences, and then as provost. The number and caliber of faculty we've hired during Tom's tenure, the academic programs we've added and strengthened, the incredibly talented students we've enrolled -- all of it is a testament not only to Tom's dedication but also to his fundamental belief in the transformative power of higher education. He understands how UD transforms the lives of its students, and how the work we do here transforms our world. I wish him the best as he takes that vision to the University of Hawai'i at Mānoa."
'Resilience Engineering'
The University of Delaware's Nii Attoh-Okine recently published a new book with Cambridge University Press, "Resilience Engineering: Models and Analysis."
Reviresco June run
UD ROTC cadets will run from New York City to Miami this month to raise awareness about veterans' affairs.
Harker is consulting with the University's deans and leadership and will announce a process to select the next provost in a few weeks.
'The University that changed my life'
"I will leave the University of Delaware with tears in my eyes," Apple said. "I have been so fortunate to return to the University that changed my life and to serve it for seven years as both dean and provost. I have had three great mentors during my service here, Dan Rich, Dave Roselle and Pat Harker. They have taught me so much -- my debt to them can never be repaid. And I will leave hundreds of good friends and colleagues among the faculty and staff -- so many memorable and talented people that I have had the pleasure to work with. This is a great university.  
"I'm very excited and humbled by the opportunity to lead the flagship campus of the stellar University of Hawai'i, a Hawaiian place of learning," he continued. "I'm ready to roll up my sleeves and help make this research powerhouse an even stronger economic engine for the state of Hawaii, as well as a place that transforms every single person who comes to study. Guided by the wisdom of the Hawaiian culture and the people who live here, UH has much to teach the world about sustainability, diversity and globalization, about our place in the world, our responsibility as local and global citizens, about an ideal, a way of life which is connected and open, the true meaning of aloha."
Forward-thinking leader
In announcing Apple's new appointment, Eric Martinson, chairman of the Board of Regents, said, "The University of Hawai'i at Mānoa is our flagship campus and home to our important research enterprises, which will continue to grow in the coming years. An institution with such a critical role to play in Hawai'i's economy must have its own leader dedicated to charting progress for the school itself while contributing to the overall strength of the entire system. We are confident Dr. Apple will be that leader."
"We are extremely pleased to welcome a distinguished scientist, academician and administrator in Tom Apple," said University of Hawai'i President M.R.C. Greenwood. "He will bring to the University of Hawai'i at Mānoa an impeccable reputation as a researcher and a strong track record as a recruiter of top-tier faculty. As we continue our strategic efforts and launch new initiatives to increase UH's stature and recognition nationally and internationally, Chancellor-to-be Apple will be a visionary and proven, forward-thinking leader for the flagship campus of the UH System."
About Tom Apple
Apple, a University of Delaware alumnus, has served as a dean and as provost at UD since 2005. He was named dean of the College of Arts and Sciences effective July 1, 2005, and was named provost effective July 1, 2009.
As the chief academic officer of the University, the provost is responsible for the administration of all programs of instruction, research, and service, and for facilitating the success of the University's faculty and students. The deans of the seven colleges report directly to him as do the deputy provost, the senior vice provost for research and strategic initiatives, the vice president for student life, the vice provost for graduate and professional education, the vice provost for libraries and the associate provost for administration and enrollment services.
Apple earned his doctorate in physical chemistry at the University of Delaware in 1982, after completing his bachelor's degree in biology at Pennsylvania State University in 1976. He was a postdoctoral research fellow at Iowa State University from 1981-83.
From 1983-87, Apple was an assistant professor of chemistry at the University of Nebraska. From 1987-91, he was an associate professor of chemistry. He won the university's Parents Association Teaching Award in 1990 and 1991.
Apple was vice provost for administration at Rensselaer Polytechnic Institute from 2002-05 and was dean of graduate education and professor of chemistry at Rensselaer from 2001-05. Apple joined the Rensselaer faculty in 1991, chaired its Department of Chemistry from 1997-2001, and served as interim vice provost for institute diversity from 2002-03. In 1996, he won the Rensselaer Trustees' Outstanding Teacher Award.
Apple's research in zeolite materials and polymeric materials has been funded by grants from the National Science Foundation, as well as support from the National Institutes of Health and others, and he is the author or coauthor of numerous articles in professional journals. His wife, Anne, earned her master's degree in chemistry at UD and her doctorate in veterinary medicine at Iowa State University.
About the University of Hawai'i at Mānoa
The University of Hawai'i at Mānoa serves approximately 20,000 students pursuing more than 225 different degrees. Its students come from every Hawaiian island, every state in the nation and more than 100 countries. 
Photo by Kathy F. Atkinson