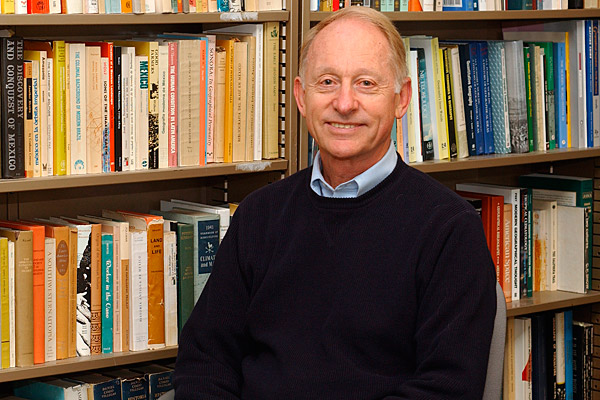 May 11: Speaking of Teaching
Peter Rees to discuss helping the geographically challenged
10:48 a.m., May 3, 2012--The University of Delaware's Institute of Undergraduate Education (ITUE) will conclude its spring Speaking of Teaching series with a talk by Peter Rees, associate professor of geography and Latin American studies.
Rees will discuss "The Challenge of the Geographically Challenged" from 2:30-4 p.m., Friday, May 11, in 006 Kirkbride Hall.  For more information or to register, visit the Speaking of Teaching website. 
June 6: UDid It! Picnic
All UD faculty and staff members are invited to attend the annual UDid It! employee appreciation picnic, set from 11 a.m.-1:30 p.m., Monday, June 6, on The Green.
2FA protects you
If you are using two-factor authentication (2FA), even if a hacker has your password, your information is probably safe.
The series is designed to allow great teachers from across campus to share their insights and expertise with the broader University community. 
On May 11, Rees will discuss the challenges and successes he's experienced helping students develop a geographic perspective of the world. While describing student barriers he has observed in his teaching, Rees explained, "Without realizing it, we are constantly making geographic decisions in our daily lives. Yet, Geography is a widely misunderstood discipline that in the past has received scant attention in America's secondary schools."  
During his presentation, Rees will discuss the challenges that a lack of geographical background presents for students and why some of them struggle in introductory geography courses. He also will demonstrate how "thinking and acting geographically" can encourage development of a geographic perspective that informs a more nuanced understanding of the world and its inhabitants. In addition, he will explore how use of an experimental curricular strategy has offered an alternative to the way to teach "World Regional Geography," one of the most frequently taken introductory geography courses.
Rees has received the Higher Education Distinguished Teaching Award from the National Council for Geographic Education and the UD Excellence in Advising award.
The ITUE Speaking of Teaching series highlights UD faculty members from across the disciplines who have been honored for their outstanding contributions to education at the University and beyond.  All of this spring's featured presenters have emphasized student engagement in their classes, reinforcing the idea that student-centered practices can lead to rich educational experiences in a variety of disciplinary settings.  
The series is sponsored by ITUE, the Center for Educational Effectiveness (CFEE), Academic Technology Services (IT-ATS) and the Office of the Provost
For more information, please contact Meredith Wesolowski at mcw@udel.edu.
Photo by Kevin Quinlan