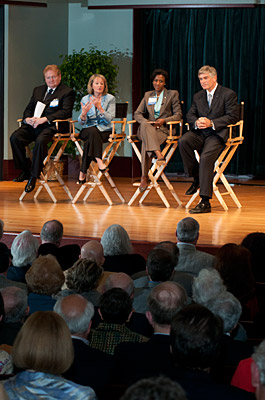 Glimpsing the future
Harker, senior leaders preview future campus plans to leadership donors
2:39 p.m., May 2, 2012--Two hundred of the University's leadership donors gathered at the Roselle Center for the Arts on Friday, April 27, for Foundations for Our Future, a reception and presentation aimed to give donors an insider's look at the University's plans for future campus growth and development.   
The guests included members of the University's four donor recognition societies: the Delaware Diamonds Society (DDS), for those who make annual gifts to the University of $1,000 or more; the Pillars Society, which recognizes lifetime giving between $100,000 - $250,000; the Signers Society, for those whose lifetime giving is greater than $250,000; and Carillon Circle, honoring those who have included UD in their estate plans.  
From graduates, faculty
As it neared time for the processional to open the University of Delaware Commencement ceremonies, graduating students and faculty members shared their feelings about what the event means to them.
Doctoral hooding
It was a day of triumph, cheers and collective relief as more than 160 students from 21 nations participated in the University of Delaware's Doctoral Hooding Convocation held Friday morning on The Green.
Following a welcome reception, University President Patrick T. Harker began the presentation by acknowledging the considerable planning and preparation that takes place prior to the start of all campus building projects. He also explained how the proposed building projects would support the University's overall strategic plan.
"Our capital construction program informs how we'll build a connected campus and a collaborative culture; how we'll promote meaningful student engagement; how we'll maximize our research capacity and encourage greater interdisciplinary scholarship; how we'll deploy our creativity and inventiveness; how we'll preserve our open space, conserve our natural resources and prioritize environmentally safe, sustainable growth," said Harker.
After Harker's remarks, Monica M. Taylor, vice president of development and alumni relations, thanked those in attendance for their generous and ongoing commitment to UD.
"Every style and shape of gift makes a difference," Taylor said.  "Thank you for your generosity and spirit. We are grateful for all you do for UD." 
Taylor then introduced Scott Douglass, executive vice president and University treasurer, who reviewed plans for the future of the UD campus.
Douglass presented site plans and architectural renderings of current projects like the Interdisciplinary Science and Engineering Laboratory, the Life Sciences Research Facility on Delaware Avenue and the renovations to Alison Hall and the Carpenter Sports Building.
Douglass explained there are five planning principles the University uses when deciding what and where to build: improving the campus experience, campus capacity and existing architecture, campus connectivity, sustainable growth and community engagement.
"It is important that we preserve the historic integrity of the city of Newark while still accomplishing the University's goals," Douglass said.
After delivering an overview of the University's plans for the Science, Technology and Advanced Research (STAR) Campus, Douglass introduced Kathy Matt, dean of the College of Health Sciences and executive director of the Delaware Health Sciences Alliance, who gave a detailed account of the college's plans to move into the former Chrysler administrative building on the STAR Campus site and transform it into a model health and life sciences complex.
Matt discussed plans for an interdisciplinary community where health and wellness education, research and clinical programs will be able to coexist and support one another. Key aspects of the proposal include large and modern spaces to house the University's popular physical therapy clinic and nurse managed care center.
"I thought the presentation was great," said longtime Newark resident Donald Bond, a DDS and Parents Fund Council member.
"It's fascinating to see the architects' ideas and proposed changes to the campus. You have to keep growing and changing if you want to keep current," Bond said
Article by Shannon Pote
Photo by Duane Perry