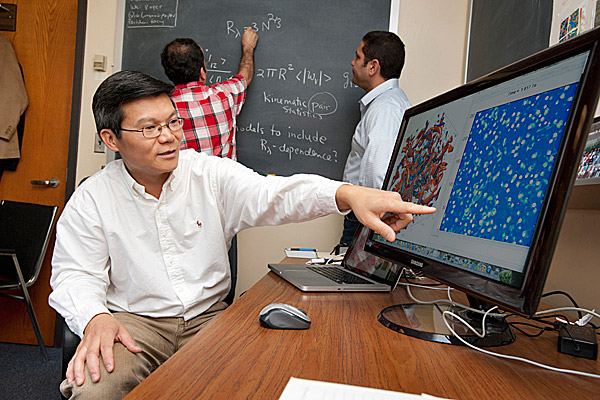 UD Capture
Professor Lian-Ping Wang discusses value of technology in classroom
8:52 a.m., March 2, 2012--As Lian-Ping Wang, professor in the University of Delaware's Department of Mechanical Engineering, read through his online course evaluations from last semester, it was clear that his students had benefitted from his use of UD Capture in the classroom.
"From the feedback I got from online evaluations, students really like it," Wang said.
June 6: UDid It! Picnic
All UD faculty and staff members are invited to attend the annual UDid It! employee appreciation picnic, set from 11 a.m.-1:30 p.m., Monday, June 6, on The Green.
2FA protects you
If you are using two-factor authentication (2FA), even if a hacker has your password, your information is probably safe.
His students wrote that they found UD Capture to be a useful tool and hoped that he would continue to use it in the future. Although Wang uses the classroom recording system to review himself and improve the way he presents, the system is mainly for the advantage of his students. 
"With UD Capture, they can go back and better understand the lecture if they want to," Wang said.
UD Capture is an automatic service that records classroom meetings and posts the recordings online. Microphones are installed in the classroom and the same VGA connection for the projector is all that is needed. No extra set-up is required, and recordings can be scheduled for the same class period and location throughout the semester.
For professors who need to pre-record a lecture, the self-service recording studio in 309 Gore Hall contains a recording station, microphone, document camera and laptop connections. To reserve the room, faculty members can schedule an appointment online.
Not only does Wang record each class so students can refer back to the lectures, but he also uses UD Capture self-service when he travels. The service allows his engineering students to learn the material even when he is not on campus. He said that it would be impossible to reschedule a class containing 120 students so capturing the lectures is the easiest method when he is unavailable to teach in person.
"I pre-record my lectures when I'm away, and I ask my teaching assistant to play [them]," Wang said. "That way, my students can come at their regular class time so there's no need to reschedule class." 
Wang also uses this technology so students who are unable to come to campus can still enroll in his class. He was able to teach a student in Pennsylvania and another in Virginia using his video lectures. Wang recommended UD Capture to another faculty member who was interested in teaching the same student from Virginia because of its effectiveness. 
"The students don't have to come to campus because they can watch my lecture remotely," Wang said.
Wang sometimes uses a document camera with his laptop so he can put handwritten notes and equations on the screen. The document camera is also useful for faculty who would like to record their courses but don't use a laptop in the classroom.
He began using UD Capture two years ago when he learned that the system is installed in every classroom. He sees no downside to recording his lectures and said that he didn't have to do much extra work once he got used to the technology.  
Wang said that he has seen somewhat of a difference in grades since he made his recorded lectures available online. He said the service is convenient and gives students the opportunity to review the notes at their own speed.
"I think this really helps for those slow learners," Wang said. "They can go back and review their lectures on their own time, as many times as they want."
Wang, who plans on recording all of his future graduate level courses, said that UD Capture is beneficial for any department.
"I would encourage everyone to try it because it's really convenient," Wang said. "You don't even notice it's being captured, and with the laptop and document camera, I think you can do essentially what you normally do."
Article by Julie Becker
Photo by Evan Krape