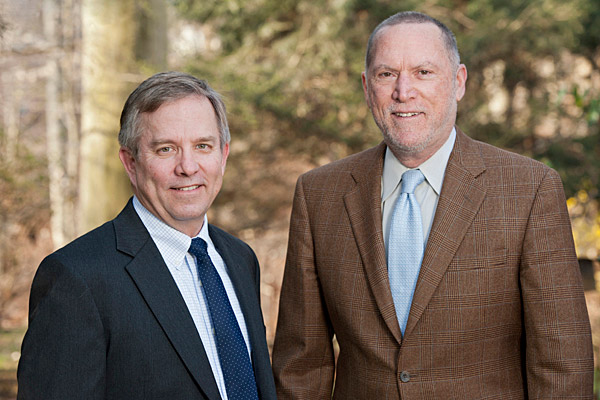 Gateway to success
SBTDC program helps entrepreneurs attract funding
1:23 p.m., March 19, 2012--Every year, $2.5 billion in federal funding is available to small businesses developing innovative technologies for applications in the defense, health, transportation and other industries. But competition for the funds, which are awarded through the federal government's SBIR/STTR grant program, is fierce—less than 20 percent of applicants receive money to help them demonstrate the feasibility of their ideas.
Now, the Delaware SBIR Gateway Program, run by the Small Business and Technology Development Center (SBTDC) at the University of Delaware, is helping to improve the odds of winning awards from this government program.
From graduates, faculty
As it neared time for the processional to open the University of Delaware Commencement ceremonies, graduating students and faculty members shared their feelings about what the event means to them.
Doctoral hooding
It was a day of triumph, cheers and collective relief as more than 160 students from 21 nations participated in the University of Delaware's Doctoral Hooding Convocation held Friday morning on The Green.
"The establishment of an effective SBIR/STTR Program is an important step in building a continuum of funding to help small companies move from start-up through proof-of-concept to commercialization," says David Weir, director of the Office of Economic Innovation and Partnerships, which houses SBTDC.
According to Delaware SBTDC Director Clinton Tymes, the gateway workshops and proposal assistance are offered at no charge to Delaware companies. "These workshops provide advice, tools, and insight into what it takes to win an SBIR grant," Tymes says.  "The numbers show that entrepreneurs who go through such programs have a higher success rate than those who don't."
Small business owners who have completed the workshop are offered individual counseling by SBTDC business advisers to prepare and revise their proposals. SBTDC contracts with Biotechnology Business Consultants (BBC) in Ann Arbor, Mich., to offer the workshops. 
Andrew Weinstein, M.D., an asthma/allergy specialist and president of Asthma Management Systems, a Delaware technology start-up company, is SBTDC's first Gateway success story. 
Weinstein recently received a one-year, $200,000 SBIR grant from the National Heart, Lung, and Blood Institute (NHLBI) to demonstrate an asthma "telehealth" system to improve management of the disease.
Inhaled corticosteroids effectively control asthma symptoms, but studies show that adherence to prescribed medication regimens is poor. Weinstein's project will combine an innovative telemonitoring device for inhaled medications with a new motivational strategy that will enable clinicians to determine the root causes of asthma treatment failure and deliver tailored interventions to improve adherence and/or correct inadequate medical treatment.
His SBIR proposal received an impact score of 22 out of a possible 25, and the review committee referred to his application as "extremely strong with an outstanding potential for overall impact."
"I spoke with Gary Simon about the SBIR program several years ago, and I finally submitted a proposal to NIH late last year," Weinstein says. "Gary was helpful in placing me in the SBIR workshop, which gave me guidance in completing the complex application. I'm excited that I have the opportunity to validate 35 years of clinical research with a controlled trial as well as start an adherence disease management company."
About Andrew Weinstein
Dr. Andrew G. Weinstein is a board-certified allergist and clinical immunologist and associate clinical professor of pediatrics at Thomas Jefferson Medical College. He graduated from the University of Pennsylvania School of Medicine and did his pediatric residency and allergy/immunology  fellowship at the Children's Hospital of Philadelphia. For more than 30 years, Weinstein combined clinical practice and clinical research. He is now devoting full time to developing the area of adherence disease management and is president of Asthma Management Systems LLC.
About SBIR/STTR Grants
The Small Business Innovation Research (SBIR) program is a highly competitive program that encourages domestic small businesses to engage in federal research and development that has the potential for commercialization. 
Currently, 11 federal agencies participate in the program: Department of Agriculture, National Institute of Standards and Technology, National Oceanic and Atmospheric Administration, Department of Defense, Department of Education, Department of Energy, Department of Health and Human Services, Department of Homeland Security, Department of Transportation, Environmental Protection Agency, National Aeronautics and Space Administration, and National Science Foundation.
About SBTDC
The Small Business Technology Development Center (SBTDC), a unit of UD's Office of Economic Innovation and Partnership (OEIP), exists to strengthen Delaware's economic base by providing quality services such as management assistance, educational programs, and resources to Delaware's business community and potential entrepreneurs.
Funding for the SBIR Gateway Program is provided through Delaware's Congressional delegation. The program is open to UD faculty entrepreneurs as well as small business owners throughout the state.
Article by Diane Kukich
Photo by Evan Krape