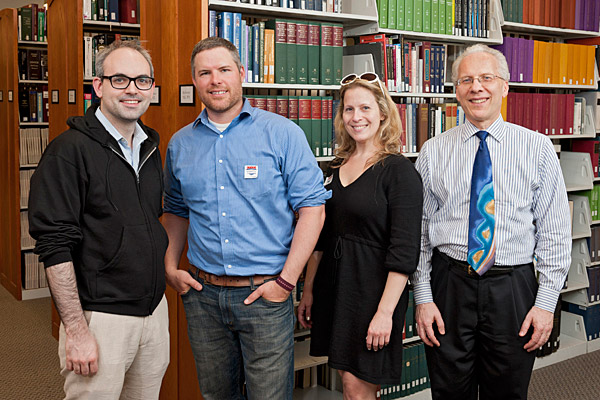 Library innovation
University of Delaware Library participates in 'The Great Library Roadshow'
10:41 a.m., March 16, 2012--The University of Delaware Library participated in "The Great Library Roadshow -- Seeking Innovation across America" -- sponsored by the Online Computer Library Center (OCLC) and the national publication Library Journal -- in which three librarians put four wheels on the road and set out on a driving mission from North Carolina to Pennsylvania seeking library innovation in six selected libraries.
The three librarians spearheading "The Great Library Roadshow" were: Patrick Sweeney, branch manager of the East Palo Alto and Portola Valley libraries in the San Mateo County Library System; Josh Hadro, executive editor, Digital Products for   Library Journal, School Library Journal and The Hom Book; and Lisa Carlucci Thomas, director and founder of Design Think Do.
From graduates, faculty
As it neared time for the processional to open the University of Delaware Commencement ceremonies, graduating students and faculty members shared their feelings about what the event means to them.
Doctoral hooding
It was a day of triumph, cheers and collective relief as more than 160 students from 21 nations participated in the University of Delaware's Doctoral Hooding Convocation held Friday morning on The Green.
Scheduled libraries on "The Great Library Roadshow" included: Charlotte Mecklenburg Library in Charlotte, N.C.; High Point University Library in High Point, N.C.; Richmond Public Library in Richmond, Va.; Johns Hopkins University in Baltimore; University of Delaware Library and the Free Library of Philadelphia.
The following staff members of the University of Delaware Library were interviewed and filmed during the afternoon visit to Newark on Tuesday, March 13:
Shelly McCoy, head of the Student Multimedia Design Center, on "Frame it, Mic it, Light it at the University of Delaware Library." 
Gregg Silvis, assistant director for Library Computing Systems, on "Implementing OCLC WorldShare Management Services at the University of Delaware Library."
Justin Wing, head of the Library Systems Support Department, on "Google Analytics and the Redesigned University of Delaware Library Website."
Susan Brynteson, vice provost and May Morris Director of Libraries, and L. Rebecca Johnson Melvin, librarian, Special Collections Department, on "The (soon to be) Joe Biden Collection at the University of Delaware."
Several UD students were also interviewed in the Morris Library Commons and/or on the Morris Library terrace on "Why They Love the Library."
Shortly after their visit "The Great Library Roadshow" team posted these videos on Facebook, Twitter and Storify. The videos of the University of Delaware Library visit are available online.
"The University of Delaware Library was a delight to showcase," said Brynteson. "The library is constantly evolving and it was a pleasure to describe some of the recent achievements and technological efforts underway."
Photo by Evan Krape