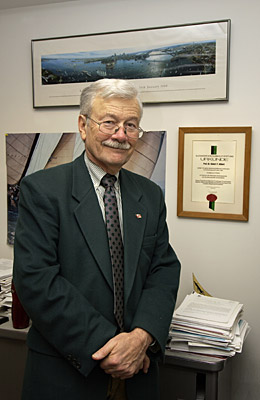 Journal dedication
Mathematics publication honors UD Prof. Robert Gilbert
3:13 p.m., March 20, 2012--The journal Complex Variables and Elliptic Equations recently dedicated an issue to Robert Gilbert, Unidel Professor Emeritus of Mathematical Sciences at the University of Delaware, in honor of his 80th birthday.
The February issue of the international journal features an editorial about Gilbert and his career as an applied analyst, as well as contributions from colleagues, former students and friends. Gilbert is primarily known for his treatises on function theoretic methods applied to partial differential equations (PDE), which is one of his many areas of research. He is a three-time winner of the prestigious Alexander von Humboldt Award.
'Resilience Engineering'
The University of Delaware's Nii Attoh-Okine recently published a new book with Cambridge University Press, "Resilience Engineering: Models and Analysis."
Reviresco June run
UD ROTC cadets will run from New York City to Miami this month to raise awareness about veterans' affairs.
According to the editorial, Gilbert "is perhaps the world's primary authority in certain areas such as function theoretic methods in elliptic PDE and on scattering and detection problems in shallow oceans."
Born in the Bronx, N.Y., Gilbert received his bachelor of science degree from Brooklyn College of the City University of New York and began his career as a physicist. He went on to earn master's degrees in physics and mathematics from Carnegie Mellon University, where he also earned a doctorate in 1958, working with Zeev Nehari, a prominent complex analyst.
Gilbert was the founding editor of two journals, Applicable Analysis in 1971 and Complex Variables, Theory and Applications in 1982. He began the International Society for Analysis, Its Application and Computation (ISAAC), which held its first international congress at UD in 1997.
His most recent research efforts are in the areas of inverse problems, theory of plasto-elasticity, homogenization, hemivariational inequalities and the flow of viscous fluids. The work on homogenization concentrates on models of biological mechanics, specifically bone mechanics. He is currently working on models of the osteoblastic cell. 
Later this year, the journal Mathematical Methods in the Applied Sciences will also dedicate an issue to Gilbert.
Article by Andrea Muddiman