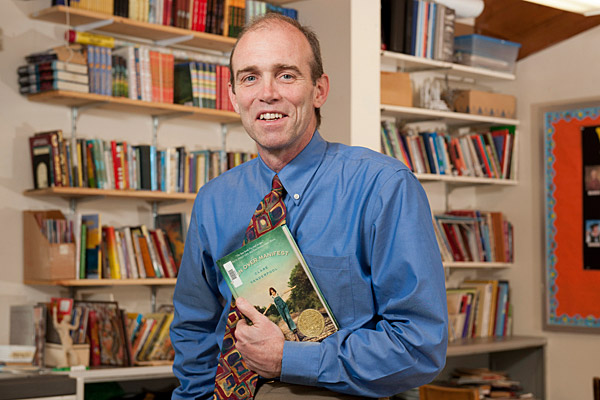 Newbery committee
UD alumnus Fahey helps pick Newbery Medal winners
9:49 a.m., March 15, 2012--Last year, Brian Fahey, a University of Delaware alumnus, probably read more children's books than most kids will come across in a lifetime.
A Wilmington native who majored in political science and English at UD, Fahey is finishing up his thesis for the University's Master of Arts in Liberal Studies (MALS) program. 
'Resilience Engineering'
The University of Delaware's Nii Attoh-Okine recently published a new book with Cambridge University Press, "Resilience Engineering: Models and Analysis."
Reviresco June run
UD ROTC cadets will run from New York City to Miami this month to raise awareness about veterans' affairs.
Fahey, who teaches reading, social studies and math to fifth graders at Wilmington Friends School, recently served as a member of the 2011 Newbery Medal committee. 
Each year, a 15-member committee chooses the winner of the Newbery Medal. The award honors the author of the most distinguished contribution to American literature for children by an American publisher in the United States during the preceding year. 
"I was nominated for appointment by K.T. Horning, a professor at the University of Wisconsin who is the director of the Cooperative Children's Book Center in Madison," Fahey said. "The president of the Association for Library Service for Children, which is under the American Library Association umbrella, then sent me an invitation to join the committee."
Fahey said committee members each receive boxes of the same books, but may read them in whatever order they prefer.
"Starting in March, we make anonymous recommendations by submitting a list of titles to the chair of the committee," Fahey said. "Members use the list as guide, but also read books not on the list so as not to miss a worthy book and to ensure a wide range of reading."
Following mock discussions in June to get a feeling for committee protocol as prescribed in the committee manual, formal nominations are presented in October, November and December, Fahey said. 
Books and more books continue to arrive until early December, which allows for the possibility of a last minute nomination before the mid-winter meeting in January, where the list is winnowed down and final voting takes place, Fahey said. 
"Everything has to be wrapped up by the final Sunday morning of the January meeting," Fahey said. "On Monday morning we meet early to call the authors, which is really fun. This happens just before the awards are announced publicly." 
Having looked at some 350 books, Fahey said he closely read and took extensive note on about 150 books. 
Fahey said he read each of the final 75 books on the list at least twice, reading some of the books four or five times before making the decision for the eventual winner. 
"My favorite book was Moon Over Manifest by Clare Vanderpool (Delacorte Press), which won the Newbery Award," Fahey said. "I read it early on in March, and it remained my favorite all the way through."
Other favorites for Fahey included Dark Emperor and Other Poems of the Night by Joyce Sidman (Houghton Mifflin Books for Children) and Turtle in Paradise by Jennifer L. Holm (Random House Books for Young Readers), both of which earned Newbery honors.
Fahey said that the ultimate critics, including students in his classes at Wilmington Friends, tend to be very interested in the latest books in the genre. 
"They read all the time, and I have a hard time keeping up with them," Fahey said. "The new addition to school life is the E-reader, and lots of kids are using them now." 
Personal preferences include books that have an interesting problem to be solved, as well as having interesting characters with plenty of heart, Fahey said.
"I like books that challenge the reader," Fahey said. "These are the ones that make readers use their imagination to fill in some of the blanks for themselves." 
Article by Jerry Rhodes
Photo by Evan Krape