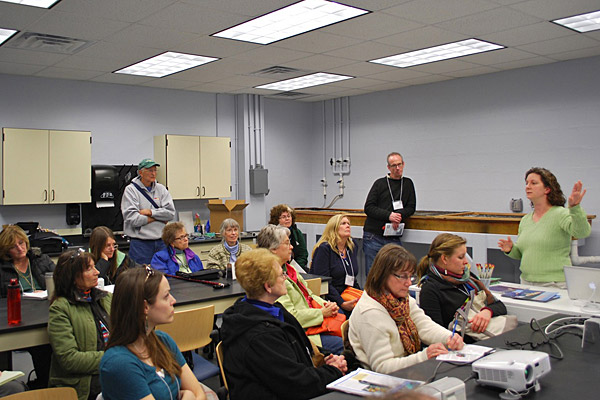 Environmental ed
Delaware Association for Environmental Education holds conference
10:57 a.m., March 7, 2012--More than 70 educators and representatives from local and state environmental agencies recently gathered in Lewes, Del., to attend the third annual conference of Delaware Association for Environmental Education (DAEE). The conference, which was held Feb. 25 at the Officer's Club in Cape Henlopen State Park, celebrated the theme "Turning the Tide Toward Environmental Education."
The daylong conference opened with a keynote address from Tom Horton, an award-winning environmental educator and writer. A variety of educational sessions and field trips followed, including an outing to UD's Hugh R. Sharp Campus in Lewes. 
From graduates, faculty
As it neared time for the processional to open the University of Delaware Commencement ceremonies, graduating students and faculty members shared their feelings about what the event means to them.
Doctoral hooding
It was a day of triumph, cheers and collective relief as more than 160 students from 21 nations participated in the University of Delaware's Doctoral Hooding Convocation held Friday morning on The Green.
The field trip, titled "From Around the Globe to Coastal Delaware: UD's World-class Marine Research," introduced 20 formal and informal educators to the diverse fields of research being done by the College of Earth, Ocean, and Environment (CEOE). Led by Delaware Sea Grant education specialist Christopher Petrone and outreach specialist Lisa Tossey, the field trip included a demo of the college's cutting-edge Global Visualization Room and presentations by CEOE researchers Doug Miller and Jennifer Biddle.
A second field trip allowed educators to visit the Marine Education, Research, and Rehabilitation Institute, a non-profit organization based in Lewes that assists with marine mammal and sea turtle rescue and rehabilitation in coastal Delaware.
Additional conference sessions covered a number of topics focused on incorporating current scientific research into classroom activities and getting students out into the field, including a workshop on outdoor woodland classrooms co-presented by Dorothy Abbott, a renewable resources extension agent with UD Cooperative Extension.
"Participants had a wide range of learning opportunities from which to choose – from marine science to butterflies – and many unique ways and opportunities to use the outdoors as a teaching tool," said Rick Mickowski, DAEE chair. "As a bonus, there were a number of educational exhibits and environmentally related silent auction items for attendees to look at and bid on."
Conference attendees enjoyed more than a dozen exhibits on environmental education programs offered by a variety of state and non-profit organizations, and attending teachers were able to earn six clock hours of continuing education credit through the Delaware Teacher Center.
The conference's theme and networking opportunities highlighted the guiding principles of DAEE, which was formed with the mission to promote environmental and outdoor education in the state and to facilitate positive community impacts on the conservation and sustainability of Delaware's resources.
An affiliate of the North American Association for Environmental Education (NAAEE), DAEE is supported by Delaware Sea Grant, CEOE, UD Cooperative Extension, the Partnership for the Delaware Estuary, Delaware Department of Natural Resources and Environmental Control, Delaware Nature Society, Delaware Department of Agriculture, New Castle Conservation District, and several other organizations.
For more information, visit the DAEE website. 
Article and photo by Lisa Tossey