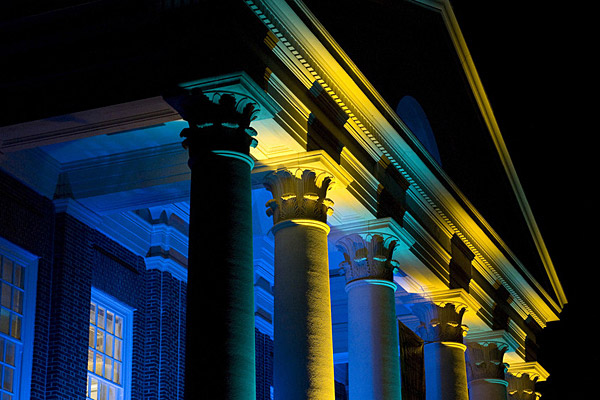 Leadership training
UD to host engineering leadership workshop April 19
10:40 a.m., March 12, 2012--The University of Delaware's College of Engineering will host an engineering academic leadership workshop from 8 a.m.-3 p.m., Thursday, April 19, at Clayton Hall.
The workshop is tailored to provide current and aspiring deans and department chairs with strategies and methods to handle the demands of leadership challenges. Organized by Charles Boncelet, UD's associate chair for undergraduate studies in electrical and computer engineering, and the American Society for Engineering Education (ASEE), the seminar will be held in conjunction with the regional spring mid-Atlantic meeting.
From graduates, faculty
As it neared time for the processional to open the University of Delaware Commencement ceremonies, graduating students and faculty members shared their feelings about what the event means to them.
Doctoral hooding
It was a day of triumph, cheers and collective relief as more than 160 students from 21 nations participated in the University of Delaware's Doctoral Hooding Convocation held Friday morning on The Green.
"Leading an academic department or college requires a different thinking and mindset than being a contributing faculty member," says Kenneth E. Barner, chair of the Department of Electrical and Computer Engineering, who also helped with the event's organization. "This conference will provide new leaders the training needed to take on this new role and realize their full potential as confident, leadership figures."
Registration is encouraged and is available online. 
During this interactive event, attendees will learn how to model effective leadership behavior, develop an action plan to integrate and implement leadership characteristics into new or preexisting activities, and establish exemplary engineering programs within their respective institutions.
Keynote speakers for the event are:
Ronald J. Bennett, an associate professor and the founding dean of the School of Engineering at the University of St. Thomas in St. Paul, Minn. Bennett has held executive positions in the engineering profession for 20 years with various industries including research and development, engineering, manufacturing, sales, marketing and management. Currently, he is the executive director of the Minnesota Center for Engineering and Manufacturing Excellence (MnCEME) and continues teaching in the engineering graduate program.
Elaine R. Millam, president of WorkWise Coaching and Consulting who has more than 30 years of leadership experience. During her career, she has held many leadership positions including educator, business executive and human resources and organizational development executive at a Fortune 50 organization. Currently, Millam is the owner of a firm that specializes in leadership development, strategic planning and organizational team effectiveness. 
ASEE spring meeting
Following the leadership workshop, UD will host the ASEE spring 2012 mid-Atlantic meeting from April 20-21 at Clayton Hall. Andy Lau, associate professor of engineering at Pennsylvania State University, will deliver the event's keynote address, entitled "Design for a Better Tomorrow."
Papers and presentations at the meeting will focus on "Engineering the First Year." Topics include methods on: 
Best-practices in first year teaching and curriculum design; 
Integrating transfer students; 
Recruiting women and minorities
Recruiting high school students; and
Keeping students in engineering programs.
Article by Zac Anderson