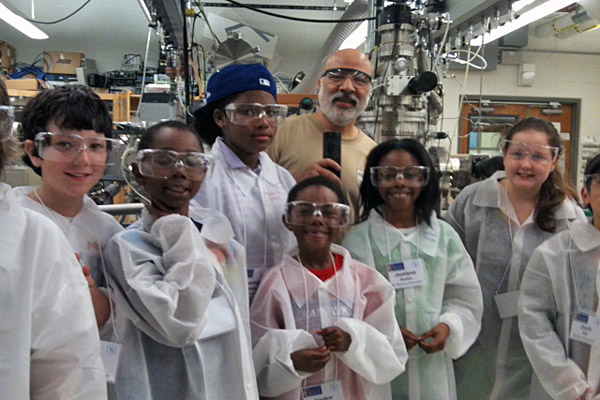 'Day of Destruction'
Engineering Outreach sets spring break camp for students in grades 3-6
2:10 p.m., March 14, 2012--The University of Delaware College of Engineering's UD K-12 Engineering program invites children grades 3-6 to learn more about careers and concepts in engineering during a spring break camp scheduled April 9-13. 
The camp kicks off with the "Day of Destruction." Supervised by undergraduate students from mechanical engineering and the student chapter of IEEE, campers will choose from a faculty-supplied selection of broken devices and appliances. From there, they will be given the opportunity to freely dismantle, examine and learn what exactly makes their appliance tick, fostering their innate curiosity. 
From graduates, faculty
As it neared time for the processional to open the University of Delaware Commencement ceremonies, graduating students and faculty members shared their feelings about what the event means to them.
Doctoral hooding
It was a day of triumph, cheers and collective relief as more than 160 students from 21 nations participated in the University of Delaware's Doctoral Hooding Convocation held Friday morning on The Green.
The weeklong program aims to reflect the college experience and various engineering disciplines to a young group of eager minds. In addition to the "Day of Destruction," campers will learn about simple machines, how engines work (in coordination with FSAE), lab oriented biomedical themed activities and civil engineering.
Learning basic concepts that are fundamental to engineering helps campers to be able to use their new skills in new situations, says Mel Jurist, coordinator of UD K-12 Engineering.  Throughout the camp, knowledge and activities will build on one another, enabling kids to connect ideas and make new concepts "stick."
The camp concludes with participants assuming the role of teacher, explaining what they have learned to their parents while simultaneously reinforcing lessons taught during the week. 
"Jeanette Wing, an expert in computational thinking at Carnegie Mellon, says that we have got to prepare our kids for a future that is increasingly tech-based – whether they work in STEM fields or not. What better way to foster kids' understanding than with fun, tech-based challenges like this," adds Jurist.
For camp registration and other program information, click here.
Article by Zac Anderson