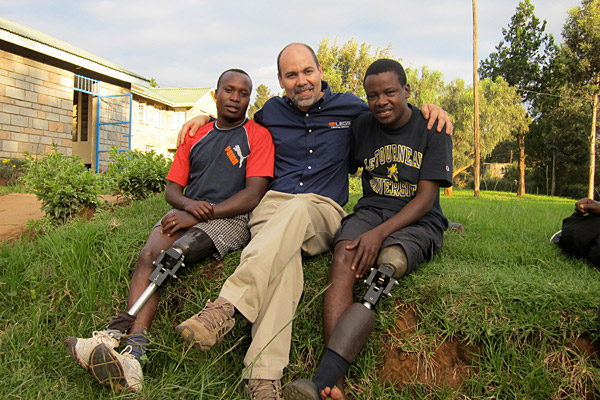 Exploring the possibilities
DRI to host design and rehabilitation conference at UD on May 1
10 a.m., March 19, 2012--The Delaware Rehabilitation Institute (DRI) will host a Design and Rehabilitation Conference at the University of Delaware on May 1. The event will be held from 8 a.m. to 1:30 p.m. at the Clayton Hall Conference Center on the University's Laird Campus.
This half-day "possibilities" conference will explore the design of products that aid in the rehabilitation of people with physical disabilities. Topics include rehabilitation research, the art of invention, the engineering of rehabilitation, the translation from invention to business, the process for approval of medical devices, and intellectual property and technology transfer. 
From graduates, faculty
As it neared time for the processional to open the University of Delaware Commencement ceremonies, graduating students and faculty members shared their feelings about what the event means to them.
Doctoral hooding
It was a day of triumph, cheers and collective relief as more than 160 students from 21 nations participated in the University of Delaware's Doctoral Hooding Convocation held Friday morning on The Green.
Speakers will include clinicians, engineers, artists, business leaders, entrepreneurs, lawyers and federal regulators. The targeted audience includes students in areas including engineering, rehabilitation sciences, business/entrepreneurship, art, kinesiology, and biology; faculty; clinicians; and experts from industry.
"Our goal is to bring together people from various backgrounds to stimulate interest in developing wondrous technologies to benefit those in need of physical rehabilitation," says DRI Director Thomas Buchanan, UD professor of engineering.
Topics and speakers include:
"Changing the World Through Rehab Design," Roger Gonzalez, LIMBS International;
"Concept to Production," Joe Hidler, Advanced Rehabilitation Technologies;
"Good Invention Is More Than Engineering: The Art of Design," Janet Hethorn, Delaware Design Institute;
"The Joys of Intellectual Property and Technology Transfer," Joy Groswami, UD Office of Economic Innovation and Partnership;
"Intrapreneurship and Entrepreneurship," John Rabolt, UD Department of Materials Science and Engineering; 
"The Mystical Process for FDA Approval of Medical Devices," Joel Myklebust, Food and Drug Administration; 
"Small Business Grants for Rehabilitation Applications," Nancy Shinowara, National Center for Medical Rehabilitation Research;
"Support for Inventors in the State of Delaware: Fostering Creative Design and Inventions," Alan Levin, Delaware Economic Development Office; and
UD faculty: Jenni Buckley ("Device Design for the Medical Industry"); Sunil Agrawal ("Robots and Gadgets for Fun and Profit"); Cole Galloway ("Changing the World by Playing with Toys!") 
There is no charge for the conference, which includes lunch, but attendees must register by sending an email to dri-info@udel.edu.
Article by Diane Kukich