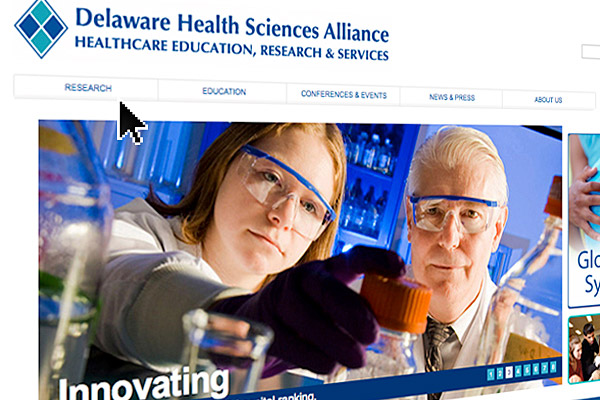 New DHSA website
Health Sciences Alliance website a resource for Delaware
11:25 a.m., March 1, 2012--If you're a researcher looking for a collaborator, a patient wanting to participate in a clinical trial, or a student seeking information about academic programs in health care, the new Delaware Health Sciences Alliance (DHSA) website has something to offer. The site features not only a new design but also improved functionality and more extensive information.
"This website is intended to be a resource for researchers, clinicians, students and the community to learn about healthcare education, research, and services that impact Delaware residents," said David Brond, UD vice president for communications and marketing and co-chair of the DHSA task force on communication and marketing.
From graduates, faculty
As it neared time for the processional to open the University of Delaware Commencement ceremonies, graduating students and faculty members shared their feelings about what the event means to them.
Doctoral hooding
It was a day of triumph, cheers and collective relief as more than 160 students from 21 nations participated in the University of Delaware's Doctoral Hooding Convocation held Friday morning on The Green.
"This site will enhance the ability of individuals and groups to collaborate, discover, and support partnerships that will positively impact the health of our state, region, and nation."
The site features event announcements, grant information, and news involving DHSA's four founding partner institutions—Christiana Care Health System, Nemours/Alfred I. duPont Hospital for Children, Thomas Jefferson University, and the University of Delaware. 
Other features include PROFILES, which facilitates collaboration by providing information about affiliated researchers' backgrounds and areas of expertise. The site also includes information about core facilities and ongoing clinical trials.
"The new website will further the mission of DHSA to translate research and education in a way that will have an impact on patients," said Kathleen Matt, executive director of the alliance and dean of the UD College of Health Sciences.  "The website is also a great way to keep the members of DHSA connected."
About DHSA
The Delaware Health Sciences Alliance was established in 2009 with four founding partners—Christiana Care Health System, Nemours/Alfred I. duPont Hospital for Children, Thomas Jefferson University, and the University of Delaware.
The alliance enables partner organizations to collaborate and conduct cutting-edge biomedical research, to improve the health of Delawareans through access to services in the state and region, and to educate the next generation of health care professionals.
DHSA's unique, broad-based partnership focuses on establishing innovative collaborations among experts in medical education and practice, health economics and policy, population sciences, public health, and biomedical sciences and engineering. For more information, visit DHSA on the web.
Article by Diane Kukich