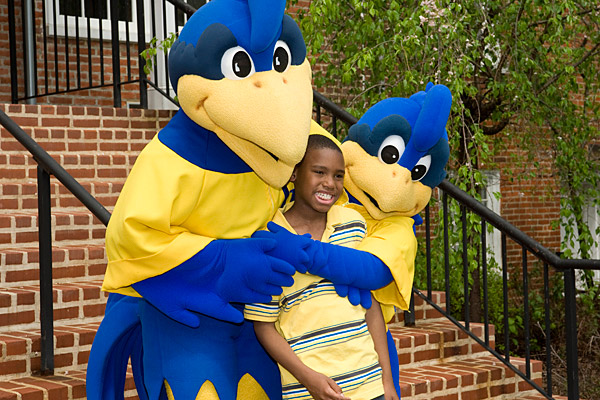 April 27: 'Take Daughters, Sons to Work'
Human Resources announces 'Take Our Daughters and Sons to Work Day'
3:41 p.m., March 26, 2012--The University of Delaware's Office of Human Resources will be sponsoring "Take Our Daughters and Sons to Work Day" on Friday, April 27. The deadline for registration is April 15.
Designed to be more than a career day, the program provides a forum for children to see what their parents do at work while also exposing them to a wealth of job possibilities and future opportunities.
June 6: UDid It! Picnic
All UD faculty and staff members are invited to attend the annual UDid It! employee appreciation picnic, set from 11 a.m.-1:30 p.m., Monday, June 6, on The Green.
2FA protects you
If you are using two-factor authentication (2FA), even if a hacker has your password, your information is probably safe.
The planning committee, comprised of individuals from both academic and administrative units across campus, has organized many activities at which children can discover the power and possibilities associated with the important work that takes place at UD.
The "Take Our Daughters and Sons to Work Day" program will be open to children ages 8-18. The cost of this year's program is $5 per person and includes a T-shirt, boxed lunch, bottled water and a coupon for ice cream from the UDairy Creamery. Participation is voluntary and at the discretion of the employees' supervisor.
Formal activities will begin with UD President Patrick Harker welcoming the children at 10 a.m. in the Trabant University Center. Jennifer (J.J.) Davis, vice president for finance and administration, will follow with comments and a logistical breakdown of what to expect throughout the day.
The University's cheerleading team and mascot, YoUDee, will lead the children in stretches and representatives of Public Safety will follow with a presentation, and will also showcase a variety of UD police vehicles.
Children and their parents will then begin their travels to the sponsoring colleges and administrative units to observe and/or participate in educational activities taking place from noon-2:45 p.m.
For further details and complete a detailed list of activities, visit www.udel.edu/hr. 
Employees will be directed to choose the activities they are interested in attending with their children. Itineraries will be sent out via campus mail the week of April 16 to those employees who register by the April 15 deadline.
Photo by Kathy F. Atkinson