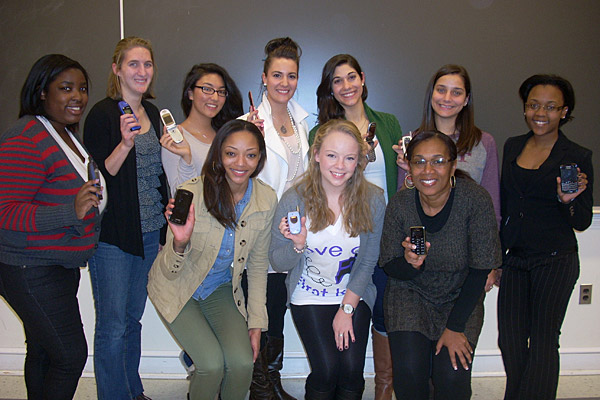 Cell phone drive
UD students work together to raise awareness of domestic violence
8:58 a.m., March 19, 2012--University of Delaware students are working on a cell phone drive that reaches beyond campus into the community, collecting old or broken phones as part of a project to help end domestic violence.
Proceeds from the collection effort will support various advocacy and educational efforts offered by the Delaware Coalition Against Domestic Violence throughout the state.
From graduates, faculty
As it neared time for the processional to open the University of Delaware Commencement ceremonies, graduating students and faculty members shared their feelings about what the event means to them.
Doctoral hooding
It was a day of triumph, cheers and collective relief as more than 160 students from 21 nations participated in the University of Delaware's Doctoral Hooding Convocation held Friday morning on The Green.
"Donating a used, unwanted cell phone allows community members to donate to an important cause without reaching into their wallets," said Carol Post, executive director of the Delaware Coalition Against Domestic Violence. "With the hundreds of thousands of used cell phones sitting idly in our community, the fundraising potential is almost limitless."

Ruth Fleury-Steiner, associate professor in UD's Department of Human Development and Family Studies and a member and volunteer at the coalition, said, "Most of these students plan to work in human services and many plan to work in the domestic violence field. They really value the opportunity to connect the classroom to the real world and make a difference for victims of domestic violence."
The cell phone drive gives students the chance to share what they have learned in the classroom with their friends and families. Students have partnered with Greek organizations, registered student organizations, and their off-campus employers to collect phones. 
Students are also drawing on their personal connections and on technologies like Facebook to spread the word. Most importantly, students are raising awareness about domestic violence in the process.
The Delaware Coalition Against Domestic Violence has partnered with Shelter Alliance for several years to raise money from these kinds of cell phone drives. Used, unwanted cell phones and batteries are shipped to them and recycled in order to raise money for the Coalition. Receipts can be provided upon request.
Members of the campus community who want more information about donating cell phones can contact Fleury-Steiner at rfs@udel.edu.