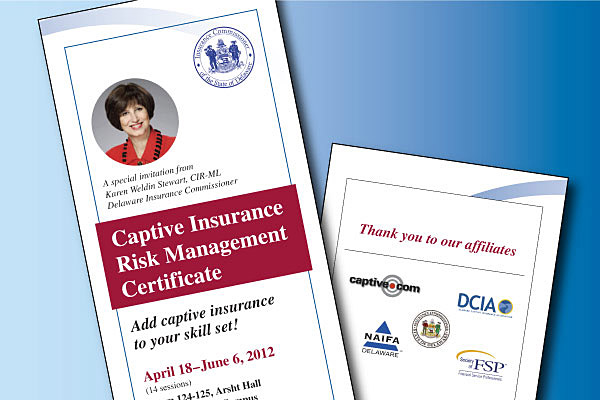 Insurance program
UD, Department of Insurance partner to offer captive insurance program
8:20 a.m., March 1, 2012--Delaware prides itself on being the state of choice for corporations and business entities. Across the U.S. and worldwide, more than 900,000 business entities have their legal home in Delaware including more than 50 percent of all U.S. publicly traded companies and 63 percent of the Fortune 500.
With legislation over the last few years focusing on modernizing Delaware law regarding the formation of captive insurance companies, the state is poised to become home to the growing number of such companies being created by organizations worldwide.  Owned by the entities they insure, captive insurance companies are formed by businesses and organizations to better manage the cost and administration of their insurance coverage.
From graduates, faculty
As it neared time for the processional to open the University of Delaware Commencement ceremonies, graduating students and faculty members shared their feelings about what the event means to them.
Doctoral hooding
It was a day of triumph, cheers and collective relief as more than 160 students from 21 nations participated in the University of Delaware's Doctoral Hooding Convocation held Friday morning on The Green.
Delaware Insurance Commissioner Karen Weldin Stewart further elaborates on the state's well-known business climate. "Delaware's sophisticated corporate laws; judiciary and financial infrastructure make it the preeminent jurisdiction for business," said Stewart. "These benefits are extended to captive insurance companies licensed through the Delaware Captive Insurance Program."
The University of Delaware, in partnership with the Delaware Department of Insurance, has developed a new professional development certificate program to train professional service providers who wish to gain expertise in this expanding industry.
The program will take place April 18-June 6 and is comprised of 14 three-hour weeknight sessions at UD's Arsht Hall on the Wilmington Campus, 2700 Pennsylvania Ave.  This certificate is aimed at financial and insurance service professionals who wish to offer such options to their clients. 
Each topic in the certificate program is taught by faculty who are certified professionals in the applicable field, and are nationally recognized as top leaders in the captive insurance industry. Topics include captive operations; capital planning, accounting and regulation; and captive applications for corporate enterprise.
Professionals who may benefit by adding captive insurance expertise to their skill set include those offering legal counsel, tax advising, trust services, custody, wealth management and financial planning, underwriting, accounting services, asset management and risk management services.
For more information about the Captive Insurance Risk Management Certificate, or to register, visit the website.