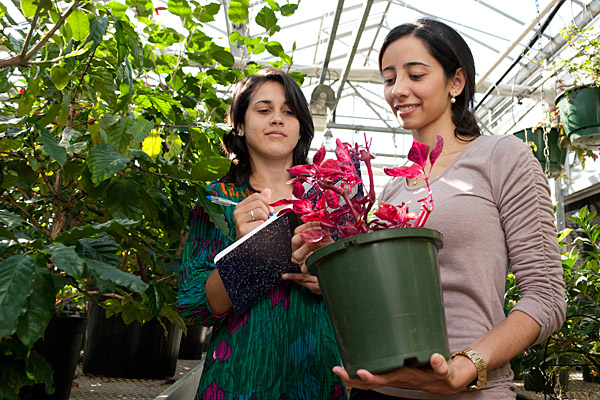 Brazil Science Without Borders
UD hosts Brazilian students from Science Without Borders
3:13 p.m., March 7, 2012--Six students from Brazil have arrived at the University of Delaware to begin studying in fields ranging from agriculture and natural resources, to biological sciences, chemical engineering and computer engineering.
The students include Evanise Silva Penido, Resende Faria, Clarissa Amaral da Silva, Juliana Camara, Rayssa Leda and Thiago Porciuncula.  
Fulbright awards
Three University of Delaware students and an alumna have received word this spring that they will travel abroad as part of the newest class of Fulbright Student Program award winners.
Peace Corps plans
Two University of Delaware students, John McCarron and Bridgette Spritz, have been selected as Peace Corps volunteers and will serve in Ghana and Rwanda.
They are among the approximately 650 Brazilian undergraduate students arriving in the United States to study at U.S. campuses with funding from the Brazilian government's Science Without Borders Program. The students will study for two semesters at one of more than 100 U.S. colleges and universities and will take part in a summer internship.
The Science Without Borders Program, announced in August 2011, provides scholarships to undergraduate students from Brazil for one year of study at colleges and universities in the United States. Scholarships are given primarily to students in the science, technology, engineering and mathematics (STEM) fields. Students in the program will return to Brazil to complete their degrees.
Administered in the U.S. by the Institute of International Education (IIE), the Science Without Borders Program is part of the Brazilian government's larger initiative to grant 100,000 scholarships for the best students from Brazil to study abroad at the world's best universities. The program is sponsored by the scholarship foundation of Brazil's Ministry of Education, Coordenação de Aperfeiçoamento de Pessoal de Nível Superior (CAPES). 
IIE has been working closely with CAPES and with colleges and universities across the United States, including the University of Delaware, to place the students in U.S. study programs that best meet their academic needs.
An additional 1,500 students are scheduled to arrive in the United States later this year, including for pre-academic training during the summer. The number of U.S. institutions hosting these students is expected to increase with the arrival of the next cohort of students.
"We are thrilled to welcome these students from Brazil," said UD Deputy Provost Nancy Brickhouse. "The perspectives they bring will enrich our classrooms and campus. Their contributions when they return will extend the reach of UD and deepen our impact."
Allan E. Goodman, IIE president and CEO, noted: "We are pleased to be partnering with the Government of Brazil and with the U.S. host campuses to implement this important program. At a time when Brazil's economy is expanding rapidly, and Brazil and the United States are forging unprecedented ties in trade, energy and scientific development, we look to higher education as another area where our two countries should seek much stronger cooperation."
UD has a number of academic and research partnerships and programs in Brazil, in areas ranging from agriculture and biodiversity, to international coaching and foreign language and literature. 
About the Institute of International Education (IIE)
An independent, nonprofit organization founded in 1919, IIE has network of over 20 offices worldwide and over 1,000 member institutions. IIE designs and implements programs of study and training for students, educators, young professionals and trainees from all sectors with funding from government agencies, foundations and corporations. IIE also conducts policy research and program evaluations, and provides advising and counseling on international education and opportunities abroad.
About the Institute for Global Studies (IGS)
Established at the University of Delaware in 2009 and based in Elliott Hall, the IGS works with UD's seven colleges to facilitate multidisciplinary academic programs; secure external funding for projects and services that enhance UD's international academic and cultural climate; forge partnerships with academic institutions, governmental and non-governmental agencies, industries and civic groups worldwide; and support outreach projects that engage UD students and the greater community as global citizens.
Article by Tracey Bryant
Photo by Kathy F. Atkinson