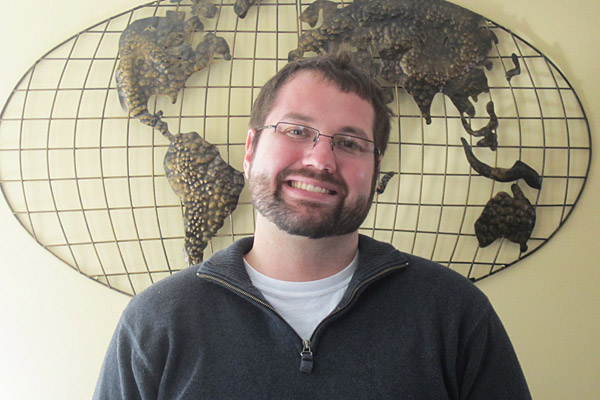 State Department honor
Doctoral student receives scholarship for intensive study in Indonesia
8:56 a.m., March 20, 2012--Daniel Bottomley, a doctoral candidate in political science and international relations at the University of Delaware, will travel to Indonesia for intensive language training this summer as the recipient of a prestigious Critical Language Scholarship from the U.S. State Department. 
Bottomley is conversant in the Indonesian language, which is a dialect of Malay. He was first introduced to the Indonesian language and culture through the U.S.-Indonesian Society.
Fulbright awards
Three University of Delaware students and an alumna have received word this spring that they will travel abroad as part of the newest class of Fulbright Student Program award winners.
Peace Corps plans
Two University of Delaware students, John McCarron and Bridgette Spritz, have been selected as Peace Corps volunteers and will serve in Ghana and Rwanda.
Bottomley became interested in the Indonesian language as a graduate student at Eastern Illinois University, where he applied to a program to travel to Indonesia in the summer of 2006. That trip opened a whole new world to him, and he decided to pursue studies in comparative politics, international relations and political science at UD.
In June, Bottomley will return to Indonesia, this time to fully immerse himself in the fascinating multi-cultural landscape of this nation of nearly 250 million people, 86 percent of whom are Muslim. Indonesia comprises eight ethnic groups and some 17 islands. Once a colony of the Netherlands, Indonesia became independent in 1949.
After two months of intensive language training at the Institute of Indonesian Studies in Malang, Bottomley will continue his dissertation research on the relationship between nationalism and religion. 
Bottomley says he has been impressed by the spirit of the Indonesian people since his first visit in 2006, to the city of Yogyakarta, in the aftermath of a deadly earthquake. The group he was with helped out in disaster relief, removing rubble so that buildings could be erected again.
"Seeing the positive attitude from the victims — who refused to be victims and worked hand in hand with us — was truly inspirational," Bottomley says. "Beyond that experience, Indonesia has so many different cultures due to its diversity that it never ceases to amaze me. Everyday you learn something new and gain great experiences."
Bottomley says he is grateful for the assistance he received from Lisa Chieffo, associate director of student programs at UD's Institute for Global Studies, and Alice Ba, associate professor of political science and international relations, who were instrumental in introducing him and encouraging him to participate in the Critical Languages Program.
The U.S. State Department launched the program in 2006 to support the intensive overseas study of critical foreign need languages. In 2012, the program awarded 631 scholarships for 13 languages, including Arabic, Azerbaijani, Bangla/Bengali, Chinese, Hindi, Indonesian, Japanese, Korean, Persian, Punjabi, Russian, Turkish and Urdu.
Article by Fariba Amini