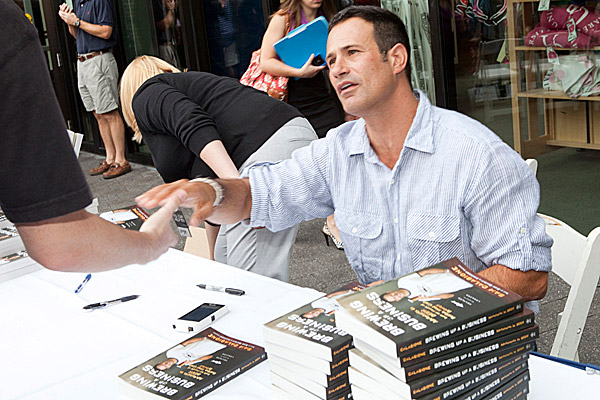 MBA roundtable
UD panelists discuss challenges of marketing in beverage service industry
10:30 a.m., March 14, 2012--Marketing for the beverage service industry is a difficult task, heavy with constraints and regulations. To reveal more about the industry and assist students involved in this week's case competition on Dogfish Head Brewery, a panel of University of Delaware faculty and industry experts gathered to share their experiences and insights last Friday.
"It's 6 o' clock, it's Friday and we're talking beer," said moderator Robert R. Nelson, associate professor in the Department of Hotel, Restaurant and Institutional Management (HRIM), who kicked off the discussion with information about the culture of Dogfish Head as a company and its colorful founder and president, Sam Calagione.
From graduates, faculty
As it neared time for the processional to open the University of Delaware Commencement ceremonies, graduating students and faculty members shared their feelings about what the event means to them.
Doctoral hooding
It was a day of triumph, cheers and collective relief as more than 160 students from 21 nations participated in the University of Delaware's Doctoral Hooding Convocation held Friday morning on The Green.
Carrie Leishman, president and CEO of the Delaware Restaurant Association, sparked the conversation among the other panelists. 
"There's no reason you can't be successful and have a blast doing it, and that's what Sam has built with his people," said Leishman, who referred to Dogfish Head as a company about growth.
The other panelists agreed; with an ever-changing line of new types of beer and with a leader like Calagione, the company is always producing something new.
Ron Cole, assistant professor in the Department of HRIM, praised Dogfish Head's ability to create product demand. 
"They've been really innovative and part of that is being a Willy Wonka and saying, 'Well, it doesn't matter how you normally make this kind of ale, we're going to change it, we're going to do something different, we're going to put some weird kinds of additives in there to change the whole industry's view of what beer can be,'" said Cole. 
John Antil, associate professor of business administration, highlighted the marketing challenges a business like Dogfish Head might face.
"This is an industry where you essentially have no money to market, at least not in the traditional sense," said Antil. "So you have to go to grassroots marketing."
Anthony DiPilla, beverage operations manager at UD, steered the topic of discussion to the beer industry itself and explained the rise in popularity of beer.
In response to DiPilla, Cole added that the beer industry faces a problem because of its lack of connection with women, who influence 80 percent of beverage purchases.
After initial remarks and discussion among the panelists, the evening continued with questions from audience members about the challenges of running a business like Dogfish Head.
Scott Jones, professor in the Department of Accounting and MIS, explained the importance of business expansion.
"It's nice when you have a leader that has that passion and conviction for the product," said Jones. "That's almost a requirement, but in addition to that you want to know that person can begin to delegate. You want to know that they can put in a business structure that enables the business to get larger." 
Because alcohol is a drug, Doris Kerr, director of operations at Iron Hill Brewery and Restaurants, revealed this can add a layer of complexity to the business.
"You cannot risk your brand being associated negatively with alcoholism, overserving or death," said Kerr. 
Another aspect of the complexity of this business, Leishman explained, is dealing with the legislation that goes along with the beverage service industry. 
For this reason, Cole noted the importance of having good government strategy, which enables a company to work within boundaries held by legislation, and to stay involved with the restaurant association and the surrounding community to maintain good company relations. 
Nelson closed the discussion and invited attendees to stop by the Carol A. Ammon Case Competition at 1:30 p.m., Friday, March 16, in 125 Alfred Lerner Hall.
Article by Arianne Minch
Photo by Ambre Alexander