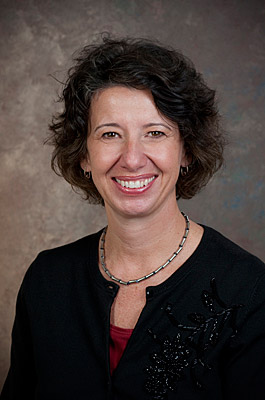 Technology in the classroom
UD communication instructor utilizes technology to enhance teaching
7:59 a.m., March 14, 2012--University of Delaware communication instructor Carolyn White Bartoo utilizes Skype in the classroom to allow her public relations and advertising students to communicate with professionals.
"I use Skype primarily for guest speakers, to bring in people in the advertising industry who work around the country in big cities," Bartoo said. "It helps me get really cool, exciting, high-end guests to come in just for 15 minutes or a half an hour."
June 6: UDid It! Picnic
All UD faculty and staff members are invited to attend the annual UDid It! employee appreciation picnic, set from 11 a.m.-1:30 p.m., Monday, June 6, on The Green.
2FA protects you
If you are using two-factor authentication (2FA), even if a hacker has your password, your information is probably safe.
She invites guests that she knows but also contacts professionals she has seen at conferences or on television. Most are willing to speak to her class for about 20 minutes and conduct a question and answer session. Although she said she only had local guests in the past, Skype now allows her students to talk to employees from national agencies who earn between $300 and $400 per hour.
Skype, which was launched in 2003, allows users to communicate with others across the world in the form of a video conference.
Bartoo said that her industry is very de-centralized, and people are accustomed to communicating from miles away. She said it is not just the content of the speaker's presentation that is important, but the exposure of meeting people through technology is also beneficial. 
"I think it would be almost malpractice for me not to use Skype in the classroom because my industry is very current," Bartoo said. "The students should know how to use this technology in meetings."
Bartoo also leads the Department of Communication internship course, and Skype allows her students to find positions outside of Delaware. She had a student who was able to intern for David Letterman in New York and communicated about assignments via Skype.
In addition to Skype, Bartoo uses clickers, which serve as a personal response system for her students. She said it can be difficult to encourage 50 students to participate, so this technology is her way of involving all students in the discussion.
"It's a way to get everybody to participate and wake them up for a minute to focus. I think most importantly, I use clicker questions to help students understand what they don't understand," Bartoo said.
Bartoo said that when her students answer a clicker question incorrectly, it reminds them to spend more time on a certain subject.
"The other way I use clickers is for me to take a temperature reading of the room as to what they are or aren't getting," Bartoo said. "It lets me see where the room is, but it also lets the students realize how many people are as unconfident as they are."
She said this also allows those students who are trailing behind to realize that they need to put more effort into their assignment.
Bartoo has also used UD Capture, which is an automatic service that records classroom meetings and posts the recordings on the Web. She selectively records just those sessions with guest speakers and sessions where there was a special activity. Bartoo is also the faculty adviser of the Public Relations Student Society of America, or PRSSA, and records meetings when guests give speeches to club members.
She used UD Capture in ways that others haven't considered -- to broadcast her study abroad information session. Bartoo said that not all students can attend the interest meetings, so posting the information online allows her to spread the word.
Bartoo enjoys trying out technology and new teaching techniques each semester. She said she is not an early adopter to technology, but she is patient and utilizes the resources at IT Academic Technology Services. She tests devices out before using them with a class and suggests using only one per class period.
"I think technology is really great to use in the classroom, but I would do one thing in one class," Bartoo said. "I might even do a very limited thing, almost like a trial of one part."
She recommends various types of technology to deliver content and allow students to become accustomed to using new tools, but she emphasizes that it is only an additional resource. This mentality allows her classes to run smoothly regardless of what technology she chooses to use.
"Technology in the classroom is extra," Bartoo said. "It's not the foundation of the class."
Article by Julie Becker