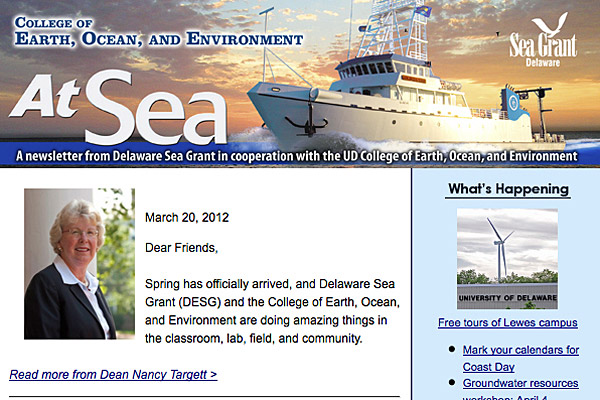 'At Sea' available
Latest edition of 'At Sea' e-newsletter is now available
4:02 p.m., March 22, 2012--The latest edition of the Delaware Sea Grant College Program and the University of Delaware College of Earth, Ocean, and Environment (CEOE) e-newsletter At Sea is now available.
In this issue, readers will find a round-up of recent news, including a visit from Xiamen University collaborators. There is also an overview of current research, accolades earned by faculty and students, and upcoming events.
From graduates, faculty
As it neared time for the processional to open the University of Delaware Commencement ceremonies, graduating students and faculty members shared their feelings about what the event means to them.
Doctoral hooding
It was a day of triumph, cheers and collective relief as more than 160 students from 21 nations participated in the University of Delaware's Doctoral Hooding Convocation held Friday morning on The Green.
Make sure you don't miss future interesting stories and free resources by signing up to have At Sea delivered right to your inbox.