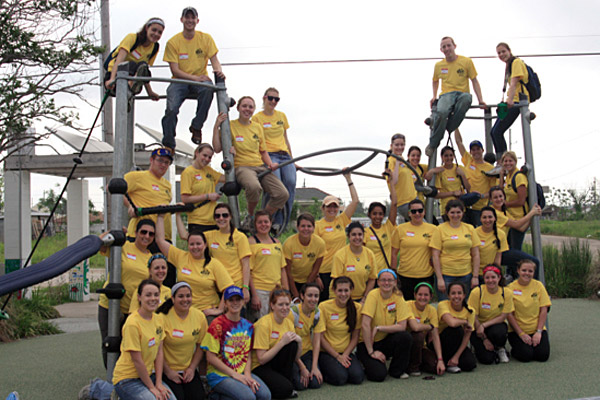 Alternative break movement
University of Delaware Alternative Breaks prepares for second year of service trips
11:22 a.m., March 20, 2012--University of Delaware Alternative Breaks (UDaB) will be running five alternative spring break trips next week, including trips to New Orleans, North Carolina, Tennessee, West Virginia and Washington, D.C.
The group piloted its first program last year, and approximately 95 students completed more than 3000 hours of community service.  This year, approximately 125 students will be participating in UDaB's spring break program.
From graduates, faculty
As it neared time for the processional to open the University of Delaware Commencement ceremonies, graduating students and faculty members shared their feelings about what the event means to them.
Doctoral hooding
It was a day of triumph, cheers and collective relief as more than 160 students from 21 nations participated in the University of Delaware's Doctoral Hooding Convocation held Friday morning on The Green.
UDaB also has announced that the group raised more than $6,400 with a letter writing campaign.  The money has been used to offset the cost of the trips for students, and all of the funds came from contributions from friends, family, and acquaintances of the participants.
The group raised an additional $550 from fundraising endeavors with local restaurants and through the help of other clubs on campus.  UDaB officials said they appreciate the people who donated and supported the program throughout this year and encourage those interested in supporting future Alternative Break trips to contact the UD Office of Development at 302-831-2104 or www.udel.edu/giving. 
On Wednesday, March 21, the program will be hosting a send-off event for participants. It will be held from 5-7 p.m. in the Multipurpose Room of the Trabant University Center. 
The group will be joined by other spring break programs, including the Honors Program trip to the Dominican Republic, a trip sponsored by Hillel to New Orleans, the Presbyterian Campus Ministry's trip to Honduras, and the Intervarsity trip to New Orleans.
Students and faculty with Twitter accounts are invited to follow the UDaB trips by searching the hashtag #UDaB2012, which participants will be updating during the experience.  Those interested can also follow UDaB's twitter handle, @UDaBreaks.
UDaB will also be hosting a return event for all of the alternative break trips on Monday, April 9, at 7 p.m., in 101 Brown Lab.  This event will allow participants to share their experiences over the course of their week of service.