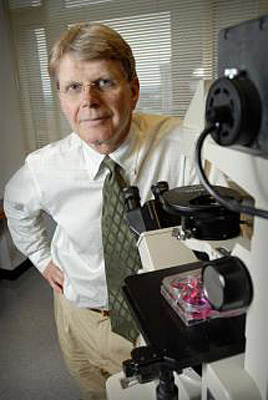 April 18: Clark Lecture
Penn professor to deliver Clark Memorial Lecture
9:35 a.m., March 23, 2012--John D. Gearhart of the University of Pennsylvania will deliver the Arnold M. Clark Memorial Lecture at 5 p.m., Wednesday, April 18, in Room 100 of Wolf Hall. 
His topic will be "Instructing Our Cells to Rebuild Our Bodies."
June 5: Blue Hen 5K
University of Delaware graduates planning to attend Alumni Weekend are encouraged to register for the annual Blue Hen 5K walk and run, which will be held Sunday morning, June 5.
June 6-9: Food and culture series
The 20th annual June Lecture Series at the Osher Lifelong Learning Institute at UD in Wilmington will be held June 6-9. Titled 'June a la Carte,' this year's program focuses on great political documents, feminism, world politics and a Newark cuisine sampler.
Gearhart serves as the James W. Effron University Professor and is the director of the Institute for Regenerative Medicine at the University of Pennsylvania. A developmental geneticist, he conducts research directed at an understanding of the molecular and cellular basis of human embryonic development. He is a leader in the development and use of human reproduction technologies, embryo and germ cell manipulations and in the genetic engineering of cells. 
The lecture, sponsored by the Department of Biological Sciences, honors the late Dr. Clark, a professor at UD from 1946-81. He advanced the ideas of teaching genetics in schools and understanding science as a part of culture. Throughout his career, he focused his research on radiation biology, developmental genetics, aging and human heredity. 
The Arnold M. Clark Memorial Lecture is supported by a gift from Dr. and Mrs. Howard Hudson and the Delaware Rehabilitative Institute.