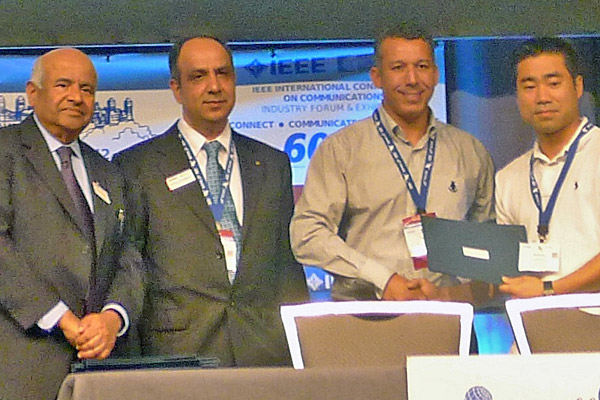 Relay is a winner
Doctoral student's approach to wireless communications wins IEEE award
1:36 p.m., June 21, 2012--In today's techno-savvy society, consumers want to transmit large amounts of data quickly and easily. Whether it's posting pictures on Facebook while riding the train to work, emailing a document from the airport or monitoring wireless networks off-site, the motto is "wireless everywhere, all the time."
But how do engineers manage today's wireless communication networks effectively without increasing costs and transmission time? 
National Medal of Science
President Barack Obama recently presented the National Medal of Science to University of Delaware alumnus Rakesh Jain.
Warren Award
Rosalind Johnson, assistant dean for student success in the NUCLEUS Program in UD's College of Arts and Sciences, was presented the John Warren Excellence in Leadership and Service Award during a May 26 ceremony.
According to Gubong Lim, a third year doctoral student at the University of Delaware, the key may be reducing the amount of energy consumed while transferring data from one place to another. 
Traditionally, communication paradigms have focused on improving transmission rates. Smart phones, for example, offer increased communication capability over regular cell phones. The drawback is that they also require frequent recharging to maintain battery life.
Lim's research focuses on improving energy consumption to prolong the life of a wireless network or the operational time of electronic devices such as cell phones and laptops. The key is identifying the optimal rate at which to transmit information. Most systems, he said, don't consider the energy consumed by the system, only the energy used in transmission.
"The target is to meet user demand while consuming less energy. For consumers, this could mean more optimal battery life," explained Lim. "Deployed on a large, network-scale level, this could mean less energy expenditure for future wireless communication networks."
Conventional systems, Lim said, operate on a one transmitter and one receiver system. Using cooperative beamforming, Lim envisions multiple mobile devices cooperating to transmit information to a single destination receiver. 
"Multiple relays actually consume less energy than one-to-one transmission," he says. 
The information is shared first among the relay devices, and then the beam is pointed to the destination to transmit, Lim explains, "enabling the transmission to occur faster and more efficiently, saving circuit energy." Additionally, Lim's preliminary study results demonstrate that cooperative beamforming achieves not only a higher energy efficiency, but also greater efficiency over large distances.
Lim documented his results in a paper, entitled "Energy Efficiency of Cooperative Beamforming in Wireless Ad-Hoc Networks." Co-authored with Leonard Cimini, professor of electrical and computer engineering and Lim's faculty adviser, the paper attempts to analyze and quantify energy efficiency in wireless communication systems, and to propose new techniques to enhance energy efficiency using cooperative beamforming.
"Energy efficiency is a hot topic in communications today because society's increasing demands for data transmission consumes ever increasing amounts of energy. Lim's research on reducing energy consumption using techniques that save circuit energy is a win-win for consumers," said Cimini.
The paper earned Lim the 2012 IEEE International Conference on Communications (ICC) Wireless Communications Symposium "best paper." He accepted the award at ICC2012, held in Ottawa, Canada, June 10-15.
Lim earned a master's degree in electrical and computer engineering at UD in 2005 and returned for his doctorate in 2009. He received his bachelor's degree in electrical and computer engineering from at Gangneung National University, located in Gangneung City, Korea. 
Article by Karen B. Roberts