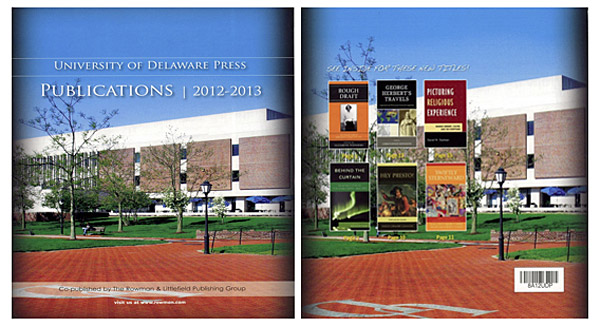 UD Press catalog
New University of Delaware Press catalog published
4:01 p.m., June 14, 2012--The University of Delaware Press has announced a new catalog, University of Delaware Press Publications 2012-2013, co-published by the Rowman and Littlefield Publishing Group.
The 34-page attractive color catalog includes publicity for 119 books published by the University of Delaware Press by scholars from throughout the world and available for purchase. The front and back covers of the publication feature an image of the Hugh M. Morris Library.
From graduates, faculty
As it neared time for the processional to open the University of Delaware Commencement ceremonies, graduating students and faculty members shared their feelings about what the event means to them.
Doctoral hooding
It was a day of triumph, cheers and collective relief as more than 160 students from 21 nations participated in the University of Delaware's Doctoral Hooding Convocation held Friday morning on The Green.
The University of Delaware Press was established in 1922 during the presidency of Walter Hullihen, who sought national recognition for UD research.
Today, the University of Delaware Press is a nonprofit publisher of scholarly books in all fields of scholarship, publishing about 35-40 monographs annually. Major strengths include literary studies, especially Shakespeare, Renaissance and Early Modern literature; 18th-century studies; French literature; art history and history; and cultural studies of Delaware and the Eastern Shore.
The University of Delaware Press website provides further information about publications of the Press and submission of manuscripts.
The University of Delaware Press is administrated by an 18-member editorial board comprised of UD faculty. Donald C. Mell, professor of English, is chair of the editorial board. Julia J. Oestreich is managing editor.
Linda Stein, librarian, serves as the webmaster for the University of Delaware Press website. The press reports to Susan Brynteson, vice provost and May Morris Director of Libraries. Past chairs of the Editorial Board have included Jay Leon Halio, then professor of English, and James Merrill, then professor of history. 
Books published by the University of Delaware Press have won many awards including:
• The Modern Language Association Aldo and Jeanne Scaglione Prize for French and Francophone Studies for Mapping Discord: Allegorical Cartography in Early Modern French Writing by Jeffrey Peters (2004);
• The George Freedley Award of the Theatre Library Association for The Masks of Anthony and Cleopatra by Marvin Rosenberg (2006); and the
• 2007 Jay L. Halio Prize in Shakespeare Early Modern Studies for Shakespeare in Shorthand: The Textual Mystery of King Lear by Adele Davidson (2009).
Interested individuals or organizations may request the press catalog from Oestreich via email at joestrei@udel.edu or by calling 302-831-1149.