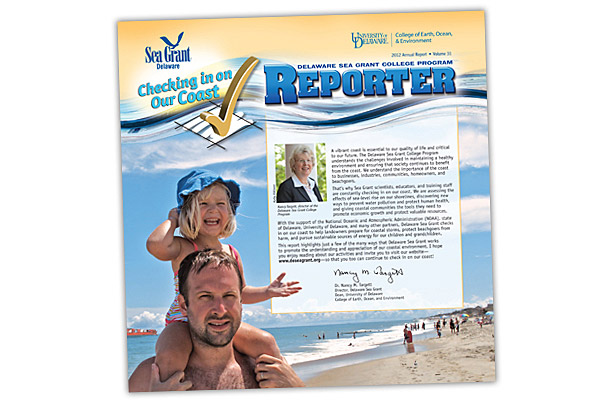 Sea Grant update
Annual report highlights Sea Grant's efforts for Delawareans
8:34 a.m., June 14, 2012--The Delaware Sea Grant College Program (DESG) is constantly checking in on the state's coast to help maintain a healthy environment. The newest edition of the program's Reporter newsletter highlights the many ways that Sea Grant scientists and educators are serving the people of the First State.
"A vibrant coast is essential to our quality of life and critical to our future," said Nancy Targett, director of Delaware Sea Grant and dean of UD's College of Earth, Ocean, and Environment. "We understand the importance of the coast to businesses, industries, communities, homeowners and beachgoers." 
From graduates, faculty
As it neared time for the processional to open the University of Delaware Commencement ceremonies, graduating students and faculty members shared their feelings about what the event means to them.
Doctoral hooding
It was a day of triumph, cheers and collective relief as more than 160 students from 21 nations participated in the University of Delaware's Doctoral Hooding Convocation held Friday morning on The Green.
Sea Grant scientists are examining invasive species, gauging sea-level rise and monitoring water quality. Sea Grant efforts also include building awareness about coastal storms and sharing the health benefits of seafood, among other initiatives.
Published annually, Reporter encourages readers to become informed, get involved and stay connected through the various programs of the college and Sea Grant. The annual report is available in a new online format as well as a downloadable version.
Reporter readers who complete the readership survey by Dec. 31 will be entered in a drawing for Delaware Sea Grant's coastal prize package, which includes a stay at UD's Virden Center in Lewes, Del.
Article by Teresa Messmore