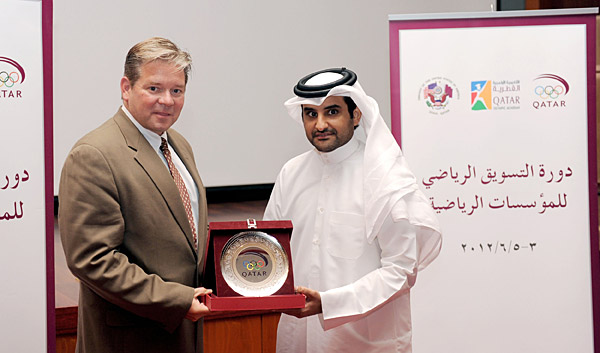 Sport diplomacy
UD professor presents sport marketing seminar in Qatar through State Department program
10:56 a.m., June 25, 2012--Matthew J. Robinson, professor of sport management in the University of Delaware's Alfred Lerner College of Business and Economics and director of the Institute for Global Studies (IGS), traveled to Doha, Qatar, June 2-7, as part of the U.S. Speaker and Specialist grant program.
Robinson presented a three-day sport marketing seminar at the Qatar Olympic Committee headquarters that was attended by representatives from the Qatar Sport Community and its sport national governing bodies. Topics included the foundations of sport marketing, branding, grass roots marketing efforts, and sponsorship sales and evaluation. 
Fulbright awards
Three University of Delaware students and an alumna have received word this spring that they will travel abroad as part of the newest class of Fulbright Student Program award winners.
Peace Corps plans
Two University of Delaware students, John McCarron and Bridgette Spritz, have been selected as Peace Corps volunteers and will serve in Ghana and Rwanda.
"I am always honored to work with the U.S. Department of State and proud I can represent my country and the University internationally," Robinson said. "The Department of State recognizes the significance of using sport as a diplomatic tool, and I welcome these opportunities to share ideas with my sport colleagues around the world."
Qatar will be hosting the 2022 FIFA Men's World Cup and will bid on the 2020 Olympic Games. 
"Sport is an integral part of the long-term vision for the country, and with that being said, there is a need for more sport management and performance educational opportunities to be offered," Robinson stated.
Robinson is no stranger to international sport and sport diplomacy. He serves as the director of the International Coaching Enrichment Certificate Program (ICECP), a coaching education program offered in conjunction with the U.S. Olympic Committee (USOC) and the International Olympic Committee (IOC). Since its inception in 2008, ICECP has interacted with over 100 coaches and Olympic committees from over 70 countries. 
During the past 10 years, Robinson has led or participated in Department of State sport diplomacy projects in Turkey, India, Senegal, Jordan, Afghanistan, Palestine and Jordan. In 2007, Robinson worked for the Department of State in the area of sport diplomacy during his sabbatical semester from the University. 
Along with leading the three-day workshop, Robinson met with the academic leadership at Qatar University, Hamad bin Khalifa University, the Qatar Foundation, the Supreme Education Council and the Aspire Academy.