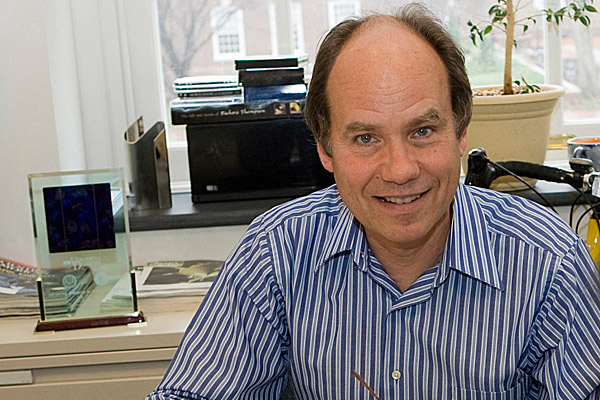 Opila wins Fulbright
Engineering professor to teach renewable energy as Fulbright scholar in Turkey
2:53 p.m., June 6, 2012--Robert Opila, professor of materials science and engineering at the University of Delaware, has won a 2012-13 Fulbright Scholarship to teach and conduct research at Bilkent University in Ankara, Turkey.
While in Ankara, Opila will develop and teach an original course in solid state materials and renewable energy. Broadly, the course will cover the structure of matter, the role of vibrations (thermal energy) and the role of electronic energy in the emerging renewable energy field.
Fulbright awards
Three University of Delaware students and an alumna have received word this spring that they will travel abroad as part of the newest class of Fulbright Student Program award winners.
Peace Corps plans
Two University of Delaware students, John McCarron and Bridgette Spritz, have been selected as Peace Corps volunteers and will serve in Ghana and Rwanda.
Opila plans to introduce problem-based learning (PBL) in his lectures, a concept that he believes will benefit his Turkish students. He previously used PBL in courses at UD to explore renewable energy solutions in places like Israel and Ghana, where a team of students worked through the technical requirements with the local infrastructure and resources to determine optimal solutions. In Ankara, Bilkent University students will examine the role of renewable energy in Turkey and propose a roadmap to increase its use in the country. 
"Turkey is a rapidly developing country technologically. I have been particularly impressed with the Turkish students studying at UD and look forward to teaching on their home ground and increasing my research collaborations with my Turkish peers," Opila said.
Opila will also conduct research with his colleague Sefik Suzer, a chemistry professor at Bilkent. The work will build upon a jointly developed method by Opila and Suzer to measure the electrical and material properties of simple electronic devices systematically and nondestructively using photoelectron spectroscopy.
Photoelectron spectroscopy is a quantitative technique that measures the composition, formula and chemical and electronic state of the elements within a material.
"In solar cells, for example, the electrons excited by sunlight are transported across the cell and collected," explained Opila. "The optimum efficiency of the fuel cell is obtained by collecting all of the electrons, and losing the least energy in each electron."
Photoelectron spectroscopy can be applied to understand the recombination of electrons at the surface of a photovoltaic device by yielding a detailed understanding of all the available energy states at that surface.
Upon his return to America, Opila plans to incorporate components of the Turkish course to the thermodynamic material covered in his UD courses. He and Suzer, he said, may also consider developing a book on the applications of surface science.
"Ideally this interaction will encourage collaborations between the United States and Turkish engineers and scientists and lead to a better understanding between our two countries," Opila concluded. "Personally, it will also enable me to be more sensitive to the challenges faced by non-American students."
For more information about the Fulbright Scholars program, visit the website.
About the professor
Robert Opila is a professor of materials science and engineering at UD, with joint appointments in the chemistry and biochemistry and electrical and computer engineering departments. His research emphasizes the conduction of electrons and light through devices composed of a variety of materials. Opila earned his doctorate from the University of Chicago in 1982. He worked at Bell Laboratories for 19 years before joining UD in 2002. 
Article by Janie Sikes
Photo by Ambre Alexander