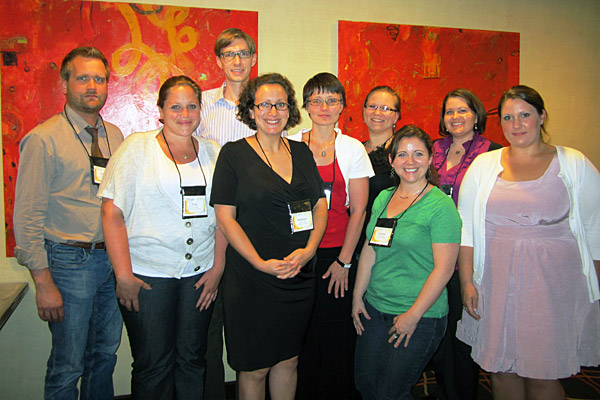 Focus on teaching
Doctoral students attend national conference on college and university teaching
1:16 p.m., June 22, 2012--The 10 University of Delaware doctoral students who were awarded competitive travel grants to attend the annual Lilly Conference on College and University Teaching and Learning held in Bethesda, Md., May 31-June 3, are now putting the new instructional ideas they have learned into practice.
The travel fellowships were co-sponsored by the Center for Teaching and Assessment of Learning and the Office of Graduate and Professional Education to offer national professional development opportunities for doctoral students pursuing faculty careers. 
From graduates, faculty
As it neared time for the processional to open the University of Delaware Commencement ceremonies, graduating students and faculty members shared their feelings about what the event means to them.
Doctoral hooding
It was a day of triumph, cheers and collective relief as more than 160 students from 21 nations participated in the University of Delaware's Doctoral Hooding Convocation held Friday morning on The Green.
The students will share what they have learned with the larger University teaching community by serving as TA Conference Fellows and/or facilitating sessions in their respective departments. Susanne Molitoris-Miller, who is pursuing a doctorate in education, said she plans to give content-specific talks geared toward graduate students' needs and interests in the mathematics and education disciplines.
The conference affords doctoral students the opportunity to become familiar with the scholarship of teaching, expand their repertoire of teaching and assessment strategies to support student learning and network with faculty from a range of institutions. 
The practice-based, instructional ideas have been immediately put into practice, as Erin Baugher, political science and international relations, related. "As a result of participating in a session focused on helping students read textbooks and journals, I have instituted daily online writing assignments and discussion questions for students in my summer course to assess their comprehension and motivate reading," Baugher said. "The idea of incentivizing the completion of course readings was not something I would have thought about as I always believed it was a student's responsibility to complete the readings and not something that should be incentivized — however, I have already witnessed the benefits of this strategy, including more informed discussion and the opportunity to engage in early intervention measures when necessary."
The collegial, interactive and supportive nature of the conference facilitated the exchange of teaching practices and networking. Annalee Kodman's dissertation research in the School of Education directly built on research cited in the plenary talk by Terry Doyle, professor in the Department of Reading at Ferris State University, on brain-based learning and teaching. 
"Prof. Doyle was most interested in my research, and the conference's friendly atmosphere gave us the opportunity to talk like colleagues," Kodman said. "Speaking one-on-one with an expert in the field was a priceless and most rewarding experience and advanced my dissertation work."
Students also highlighted the discussion-oriented nature of the conference. According to Laura Black, civil engineering, "The networking and discussion that occurred among participants were most exciting and relevant. I met dedicated faculty who were willing to share their insight on faculty responsibilities and the work-life balance, and all were enthusiastic about teaching and working with the students. I highly recommend this conference to my fellow Ph.D. students interested in academia."
The travel award recipients included Erin Baugher, political science and international relations; Laura Black, civil engineering; Serkan Bulut, political science and international relations; Kirsten Hirneisen, animal and food sciences; Annalee Kodman, education; Jared Larson, political science and international relations; Zofia Maka, political science and international relations; Susanna Molitoris Miller, education; Nicole Smolter, sociology and criminal justice; and Stephanie Stotts, geography.