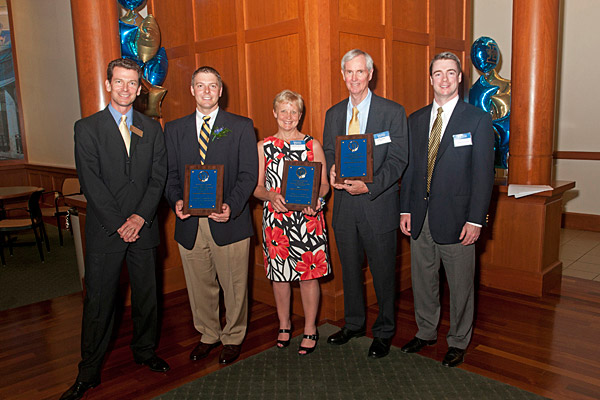 Alumni excellence
Lerner College honors business and economics alumni
8:07 a.m., June 6, 2012--Four alumni from the Alfred Lerner College of Business and Economics have been presented with the college's prestigious 2012 Alumni Awards of Excellence in recognition of exceptional accomplishments in their careers, for their personal achievements and contributions to their communities.
Donna M. Fontana, a 1985 UD graduate; Andrew Lavelle, a 2001 UD graduate; Diane Leipold, a 1997 UD graduate; and James A. Sears, a 1970 UD graduate, were honored at a reception and awards ceremony held during the University of Delaware's Alumni Weekend on Friday, June 1.
'Resilience Engineering'
The University of Delaware's Nii Attoh-Okine recently published a new book with Cambridge University Press, "Resilience Engineering: Models and Analysis."
Reviresco June run
UD ROTC cadets will run from New York City to Miami this month to raise awareness about veterans' affairs.
Dean Bruce Weber welcomed guests to the reception and Rich Corcoran, a 1998 UD graduate and president of the Lerner College Alumni Board, commended the award recipients.
"This year's recipients truly exemplify the spirit of the Alumni Awards of Excellence," said Corcoran. "In addition to their notable professional successes each of our awardees are leaders within their communities and have demonstrated a long-term commitment to UD and the Lerner College."
The awards were established in 1991 and are presented annually to a select few alumni; out of over 25,000 alumni, just 71 have received the award previously.
Donna M. Fontana 
Fontana, who received her bachelor's degree in finance and economics from UD, has worked in the financial industry for over 25 years and currently serves as the senior vice president of sales at National Financial, a Fidelity Investments Company.
She also holds an executive MBA from Columbia University and attended the Securities Industry Institute at the University of Pennsylvania's Wharton School.
In addition to mentoring colleagues at Fidelity, Fontana is active in the community. She volunteers teaching financial literacy to middle school students through Citizen Schools; provides private scholarship funding and mentoring to young women attending parochial school in New York City; and has volunteered multiple times for Bridges to Community, an organization that builds houses and support systems in Nicaragua and the Dominican Republic. 
One nominator wrote of Fontana, "Donna exemplifies the professionalism, dedication to community and excellence that are the hallmarks of a Lerner education."
In July 2011, Fontana established the Fontana Family Urban Education Fund at UD to support a student committed to teaching in an urban environment.
"A well-educated populace is the key to economic security and growth," said Fontana. "Those students taught by committed, well-prepared teachers will be the business leaders of tomorrow." 
Andrew L. Lavelle, Jr. 
Lavelle, a senior vice president within internal operations at The Siegfried Group, initially joined the company as a corporate associate while pursuing his MBA at UD.
Upon graduating with his MBA with concentrations in finance, marketing, information technology and international business, Lavelle accepted a position at the firm in 2001. 
Since that time, he has made invaluable contributions across many areas of The Siegfried Group, including: finance, recruiting, sales, marketing, business systems and human resources. 
He has also held various positions including business and systems analyst, director of marketing, market leader for southern California and vice president of sales and recruiting operations. 
According to one nomination, Lavelle played an instrumental leadership role as the organization changed in 2004 from a more traditional tax and regional CPA firm to a national firm that helps domestic and international clients accomplish critical financial work.  
Lavelle holds an honors bachelor's degree in finance from the University of Central Florida as well as a certified in financial management designation.  
Dianne Leipold 
Leipold, the global marketing director in Ashland Inc.'s Care Specialties business unit, is a 1997 graduate of the Lerner College's executive MBA program. She also holds a bachelor's degree in English and biological sciences from UD.
Leipold has 35 years of experience in the chemical specialties industry. She spent the first quarter of her career in research and development and the balance in progressively responsible positions in marketing, product management and new business development with a focus on end markets in food and personal care.
Since 2006, Leipold has led her commercial unit's new product development initiatives, concentrating upon the innovation needs of major multi-national manufacturers in the personal care industry. Her cross-functional teams have developed and launched seven new products over a three-year span, which led to doubling the company's share of sales in a key product segment.  
Leipold is no stranger to honors. In 2004, she was named one of the "Lerner Fabulous 50," which honors MBA alumni who have made significant contributions to their industries and communities, are pioneers and innovators, and possess outstanding leadership and management skills. She was also recognized with the Ashland Chairman's Award for Innovation in 2011. 
Leipold currently serves on the Program Development Planning Committee of the Product Development Management Association and is a member of the Society of Cosmetic Chemists. 
James A. Sears 
Sears, a certified public accountant who holds a bachelor's degree in accounting with honors from UD, reached the top tier of senior management at CIGNA Corporation where he was vice president and chief accounting officer until his retirement in 2003.
He began his career at Peat, Marwick, Mitchell and Co., then considered one of the "big eight" accounting firms, before advancing to Insurance Company of North America (INA).
At INA, Sears progressed through many levels of the accounting profession and was ultimately recognized with the prestigious President's Award for distinction in the accounting field. 
When INA was sold to CIGNA, Sears' career expanded into new areas where he became a critical part of the property and casualty division.
As a UD student, Sears was a Dean's Scholar and recipient of the Scott Paper Co. Foundation Award for Leadership and the Bruce Evans Memorial Award for Accounting.
Outside the office, Sears' involvement in the community has included leading several Little League baseball teams to championships and serving as head coach for more than 10 years. 
He remains active in his high school alumni association as a fundraiser and major reunion organizer; with the Leukemia Society serving as block coordinator for the past two years; and as a supporter of the Norwood Youth Club. 
Sears has also stayed close to his UD roots. From 2002 to 2004, he and his wife, Suzanne, served as co-presidents of the Parent's Board; he was honorary football captain in 2005; a member of the Visiting Athletics Committee from 2005 to 2007; and co-chair of the Blue Hen Club in 2008.
Sears and his wife were also presented with UD's Outstanding Alumni Award in 2006 in recognition of their exemplary volunteer work on behalf of UD and the UD Alumni Association. 
The Sears continue to sponsor the James A. and Suzanne M. Sears Scholarship, founded in 2005; are members of the Delaware Diamond and Pillar Societies; and have remained season football ticket holders for over 30 years. Sears also continues to actively recruit prospective students and serve as a resource for undergraduates in the Lerner College.
Article by Kathryn Meier
Photo by Duane Perry