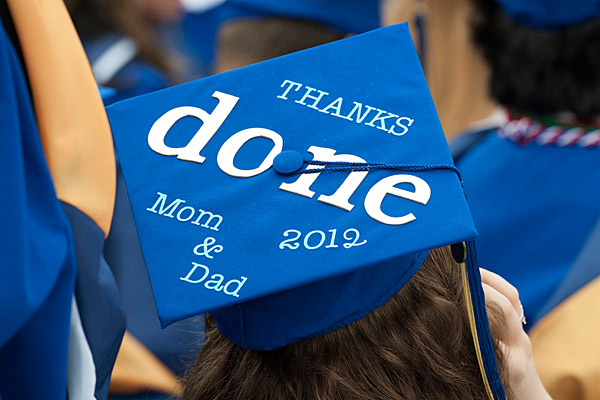 Grad rates
UD graduation rates above national average, according to Chronicle website
9:44 a.m., June 27, 2012--The University of Delaware boasts graduation rates well above the national average, according to information compiled in a Chronicle of Higher Education report on "College Completion."
The report, using data from 2010, shows that 61.8 percent of UD students graduated in four years, a figure that compares to a national average of 31.3 percent among U.S. four-year public universities.
From graduates, faculty
As it neared time for the processional to open the University of Delaware Commencement ceremonies, graduating students and faculty members shared their feelings about what the event means to them.
Doctoral hooding
It was a day of triumph, cheers and collective relief as more than 160 students from 21 nations participated in the University of Delaware's Doctoral Hooding Convocation held Friday morning on The Green.
Also, 77.1 percent of UD students graduated in six years. The national average was 56.0 percent.
"UD is leading the country in student success -- as indicated by our graduation rates," said Interim Provost Nancy Brickhouse. "Credit is due to our talented faculty, a student life program that engages students in campus activities, and students who take advantage of the resources UD has to offer."
UD drew high marks not only in the graduation rates -- in the 95th percentile for the four-year rate and in the 93rd percentile for the six-year rate -- but also for the:
• Median SAT score (1,189, in the 90th percentile);
• Student aid ($,7029, in the 75 percentile);
• Endowment (in the 98th percentile);
• Freshman retention (92 percent, in the 95th percentile); and
• Full-time faculty (96.5 percent, in the 97th percentile).
About 'College Completion'
"College Completion" is a microsite produced by the Chronicle of Higher Education with support from the Bill and Melinda Gates Foundation. Its goal is to share data on completion of American higher education in a visually stimulating way, providing a tool to help prospective students consider the complex subject of which colleges and universities do the best job of graduating their students.
Photo by Evan Krape