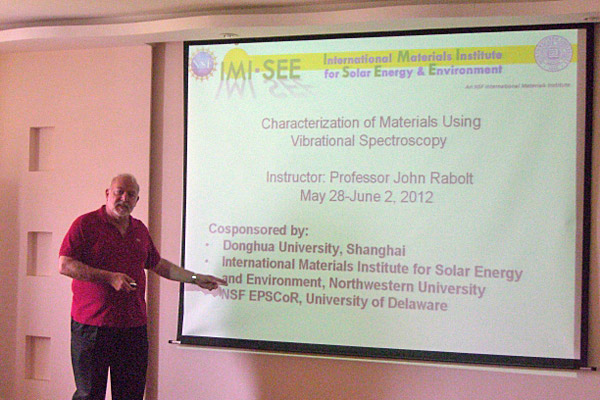 For the Record, June 29, 2012
UD faculty and staff announce recent conferences, presentations, publications
10:28 a.m., June 29, 2012--For the Record provides information about recent professional activities of University of Delaware faculty, staff, students and alumni.
Recent conferences, presentations and publications include the following:
From graduates, faculty
As it neared time for the processional to open the University of Delaware Commencement ceremonies, graduating students and faculty members shared their feelings about what the event means to them.
Doctoral hooding
It was a day of triumph, cheers and collective relief as more than 160 students from 21 nations participated in the University of Delaware's Doctoral Hooding Convocation held Friday morning on The Green.
Conferences
Faculty in the Department of Fashion and Apparel Studies -- Martha Carper and Kelly Cobb, both assistant professors, and Marsha Dickson, professor and department chair -- attended the full membership meeting of the Sustainable Apparel Coalition in Hamburg, Germany, June 12-16. The faculty participated in working group sessions on the eco and social/labor indices being developed by the coalition to provide detailed information on the sustainability of apparel and footwear products.
Presentations
John F. Rabolt, Karl W. and Renate Böer Professor of Materials Science and Engineering, presented a course on "Characterization of Materials Using Vibrational Spectroscopy," May 27-June 8, at Donghua University, located in the Songjiang district outside Shanghai, China. The course explored the conceptual and theoretical background of vibrational spectroscopy in correlation with experimental techniques available for spectroscopic characterization. Structure-processing-property relationships in materials underpin the basis by which materials are chosen for specific applications. The course is sponsored in part by the National Science Foundation's EPSCoR program at the University of Delaware, along with Donghua University and the International Materials Institute for Solar Energy and Environment at Northwestern University.
Margaret D. Stetz, Mae and Robert Carter Professor of Women's Studies and professor of humanities, delivered a paper titled "Neo-Victorian Initiation into Feminist Networks: The 'My Story' Series and Its Audience" at a conference on "Neo-Victorian Networks: Epistemologies, Aesthetics, and Ethics" at the University of Amsterdam, The Netherlands, June 15.
Martha Carothers, professor of art, presented "Images and Words / Pages and Books" and conducted a workshop "3D and Pop-Up Book Making" at Duta Wacana Christian University, Yogyakarta, Indonesia, June 25-26.
Laurie Rizzo, assistant librarian, Special Collections Department, University of Delaware Library, presented "Public Services and Special Collections" at Drexel University, Philadelphia, June 4.
Publications 
Dave Brond, vice president for communications and marketing, and Tracey Bryant, associate director for research, graduate and global communications, "Atrevete a Ser el Primero [Dare to be first]: How a U.S. University Launched a Spanish Language Website" in Currents, the magazine of the Council for Advancement and Support of Education (CASE), July/August 2012, pp. 32–35.
Zoe Read, who graduated from the Associate in Arts Program in 2009 and earned her bachelor's degree from UD in 2011 and a master's degree in newspaper journalism from Columbia University this spring, has written articles for a variety of publications, including a recent bylined feature story in The Atlantic, "Harlem's Hidden HIV Epidemic."
To submit information to be included in For the Record, write to ud-ocm@udel.edu.