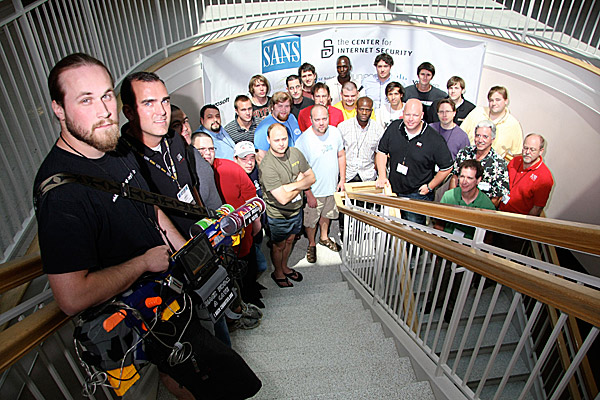 Cyber Challenge
University to host third annual cyber security bootcamp July 9-13
9:29 a.m., June 11, 2012--Rapid technology advances, along with a surge of attempted cyber-attacks on U.S. government and commercial companies, are necessitating the growth of national resources to protect our nation's intellectual capital from damage and theft. 
To motivate new talent in this emerging field, the University of Delaware will host 40 aspiring cyber security sleuths on campus as part of the U.S. Cyber Challenge's (USCC) Summer Cyber Camp program this July.
From graduates, faculty
As it neared time for the processional to open the University of Delaware Commencement ceremonies, graduating students and faculty members shared their feelings about what the event means to them.
Doctoral hooding
It was a day of triumph, cheers and collective relief as more than 160 students from 21 nations participated in the University of Delaware's Doctoral Hooding Convocation held Friday morning on The Green.
Cyber Camps feature one week of specialized cyber security training presented by college faculty and cyber security experts, including instructors from the SANS Institute, the largest source for information security training and certification in the world. 
The camp will focus on topics such as intrusion detection, penetration and forensics. A job fair will enable participants to network, and the final day culminates with a capture the flag" competition and awards ceremony.
Participants in the week-long camp qualified in the USCC sponsored Cyber Quests, an online competition that measured student knowledge about a variety of information security disciplines. 
More than one thousand college students and young professionals competed in the Cyber Quest competition. The winner was Enjolokee Jones of New Castle, Del., who finished with a score of 96.23 out of 100 and in a time of 0:55:14. 
Delaware is one of three states to offer the cyber camps, along with Virginia and California. Locally, the program is sponsored by the state of Delaware, Wilmington University, Delaware Technical and Community College and UD.
About U.S. Cyber Challenge
The mission of the U.S. Cyber Challenge (USCC) is to significantly reduce the shortage in the cyber workforce by serving as the premier program to identify, attract, recruit and place the next generation of cybersecurity professionals. USCC's goal is to find 10,000 of America's best and brightest to fill the ranks of cybersecurity professionals where their skills can be of the greatest value to the nation.
Article by Karen B. Roberts
Photo courtesy Errol Ebanks and Wilmington University