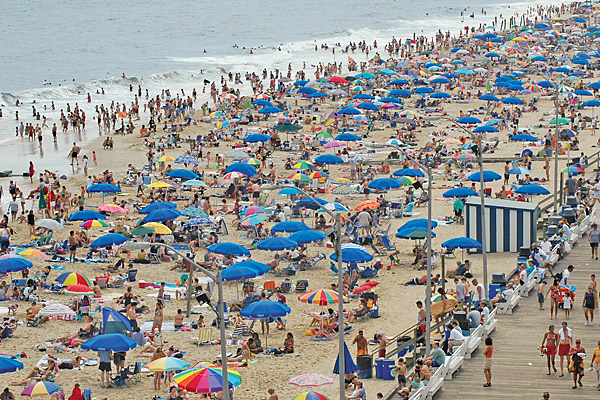 Coast economics
Coast-related economy generates $6.9 billion annually in Delaware
9:55 a.m., June 6, 2012--Economic activity along Delaware's coast generates $6.9 billion annually according to a new report commissioned by the Delaware Sea Grant College Program (DESG). 
Beach communities and surrounding areas support 59,000 jobs and $711 million in tax revenue, ranking the coast-related economy on par with agriculture among the state's top industries. 
Chronic wounds
UD's Millicent Sullivan and Kristi Kiick have received a $1.4 million grant from the National Institutes of Health for research that could provide a new approach to the treatment of chronic wounds.
Prof. Heck's legacy
The American Chemical Society is highlighting the legacy of the late Nobel laureate Richard Heck, the Willis F. Harrington Professor Emeritus of Chemistry at the University of Delaware with a digital tribute on its publications website.
Coast-related activity provides more than 10 percent of the state's total employment, taxes and business production, the report shows.
Delaware's coast has experienced dynamic changes in response to population growth in the mid-Atlantic regions and a major demographic shift in the population in coastal areas. The population has been shifting toward more retired persons who require different types of economic activities to support them, such as health care.
"Delaware's coastal economy employs thousands of workers and attracts millions of visitors to our Atlantic coast beaches, inland bays, and coastal areas," said Joe Farrell, DESG resource management specialist. "Understanding what drives our coastal economy and maintaining those attributes is vital to ensuring a robust coastal economy and high quality of life for residents." 
The coastal economy is defined as economic activity on or near the coast, specifically in ZIP codes areas that border the ocean, inland bays and lower Delaware Bay. For example, vacationing families that stay at motels, dine at local restaurants, shop on the boardwalk and take fishing excursions are part of this economy. The sector also includes permanent and seasonal residents who use medical facilities, grocery stores, banks, real estate agencies and numerous other services. 
The report, titled "The Contribution of the Coastal Economy to the State of Delaware," was authored by William Latham and Kenneth Lewis, co-directors of the Center for Applied Business and Economic Research at UD's Alfred Lerner College of Business and Economics. The authors used an economic input-output model in their calculations and incorporated "multipliers" that account for ripple effects of spending throughout the rest of the state. 
"This report can provide guidance for elected officials and businesses considering infrastructure investments or new market opportunities," Farrell said. "The results can serve as a baseline to monitor coastal development over time as economic conditions change."
A complete copy of the report can be viewed online.
About the Delaware Sea Grant College Program
The University of Delaware was designated as the nation's ninth Sea Grant College in 1976 to promote the wise use, conservation and management of marine and coastal resources through high-quality research, education and outreach activities that benefit the public and the environment.
UD's College of Earth, Ocean, and Environment administers the program, which conducts research in priority areas ranging from seafood safety to coastal hazards.
Article by Teresa Messmore 
Photo by Wendy Carey