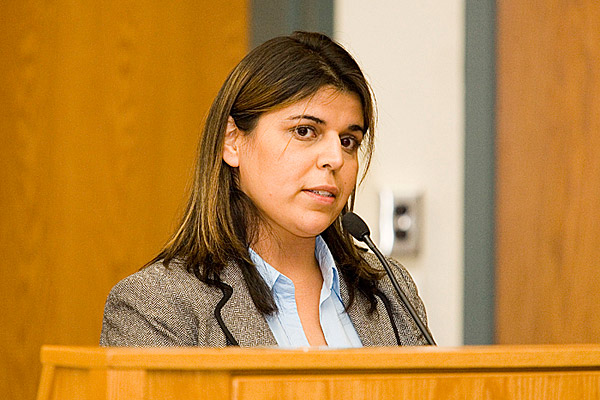 Soccer peacemaker
SPPA alumna recognized as 'Peacemaker' for work in Afghanistan
11:46 a.m., June 22, 2012--Awista Ayub, a 2009 master of public administration graduate from the University of Delaware's School of Public Policy and Administration, has been recognized by ESPN The Magazine as one of 40 women to change the way sports are played. 
Ayub, who founded the Afghan Youth Sports Exchange at 23 and brought eight Afghani girls to America to teach them soccer, chronicled her experiences in her 2010 book, However Tall the Mountain. (Read more about her book here). 
Fulbright awards
Three University of Delaware students and an alumna have received word this spring that they will travel abroad as part of the newest class of Fulbright Student Program award winners.
Peace Corps plans
Two University of Delaware students, John McCarron and Bridgette Spritz, have been selected as Peace Corps volunteers and will serve in Ghana and Rwanda.
She was honored by ESPN The Magazine for her role as "Peacemaker."
"Today, thanks in large part to Ayub's efforts, there are 15 girls soccer teams administered by the Afghanistan Football Federation, and the Afghanistan Olympic Committee has formed a national women's team," the magazine stated. "Now, in her role [as director of South Asia Programs] with Seeds of Peace, Ayub, 32, uses basketball, soccer and tennis to introduce conflict resolution to children in many regions around the world, including India, Pakistan and Afghanistan."
Ayub received the Arthur Ashe Courage Award at the 2006 ESPY Awards for her efforts in Afghanistan.
Photo by Kevin Quinlan