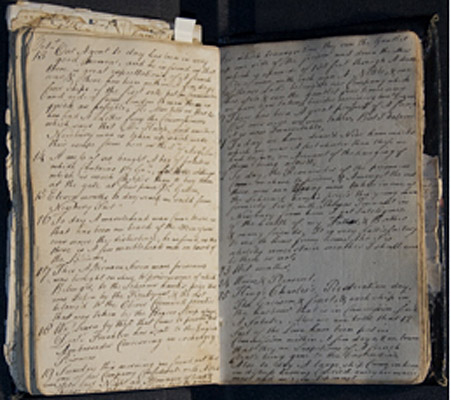 July 3-31: 'American Revolution'
University Library announces new exhibition 'The American Revolution'
8:41 a.m., June 29, 2012--The University of Delaware Library has announced a new exhibition, "The American Revolution: A War for Independence."
The exhibition will be on display from July 3-31 in the Information Room on the first floor of the Morris Library.
June 5: Blue Hen 5K
University of Delaware graduates planning to attend Alumni Weekend are encouraged to register for the annual Blue Hen 5K walk and run, which will be held Sunday morning, June 5.
June 6-9: Food and culture series
The 20th annual June Lecture Series at the Osher Lifelong Learning Institute at UD in Wilmington will be held June 6-9. Titled 'June a la Carte,' this year's program focuses on great political documents, feminism, world politics and a Newark cuisine sampler.
The exhibition will commemorate the Fourth of July with a selection of manuscripts and rare books related to the American Revolution from the library's Special Collections. 
Manuscripts on display include letters from Declaration of Independence signatories Caesar Rodney and John Dickinson, and the private diary of Charles Herbert, an American sailor who was held as a prisoner of war for two years. 
Rare books on display include Thomas Paine's influential pamphlet, Common Sense, and the Journals of Congress, which contain one of the first printings of the text of the Declaration of Independence. 
"The American Revolution:  A War for Independence" is curated by Alexander C. Johnston, assistant librarian, with exhibition preparation by Anita Wellner, library assistant, and design and installation of the physical and virtual exhibition by Laurie Rizzo, assistant librarian, all of the Special Collections Department.
The exhibition will soon be available online.