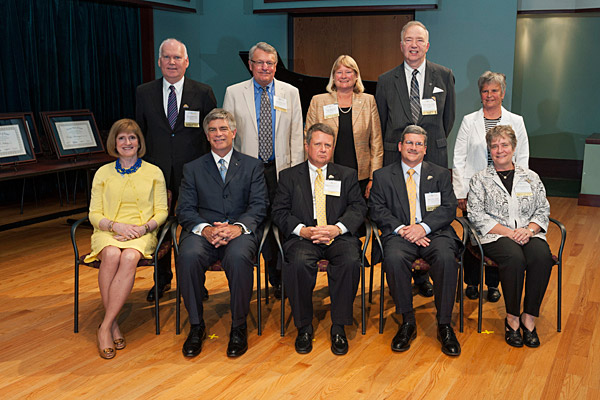 Dedicated to excellence
8 distinguished alumni honored on UD's Wall of Fame
4:35 p.m., June 4, 2012--Eight University of Delaware alumni were honored for their accomplishments by being inducted into the Alumni Wall of Fame, in a ceremony June 2 in the Gore Recital Hall of the Roselle Center for the Arts.
The ceremony was part of Alumni Weekend festivities on the campus.
'Resilience Engineering'
The University of Delaware's Nii Attoh-Okine recently published a new book with Cambridge University Press, "Resilience Engineering: Models and Analysis."
Reviresco June run
UD ROTC cadets will run from New York City to Miami this month to raise awareness about veterans' affairs.
Honored were William C. Carpenter, Jr., a 1973 graduate of the Alfred Lerner College of Business and Economics; John R. Collins, a 1980 graduate of the Lerner College; Margaret Loew Craft, who earned her master's degree in the College of Arts and Sciences in 1977; Scott K. Goodell, a 1976 graduate of the College of Arts and Sciences; David R. Helwig, a 1973 graduate of the College of Engineering; Evelyn Maurmeyer, who earned her master's and doctoral degrees in the College of Earth, Ocean, and Environment in 1974 and 1978, respectively; Gordon A. Pfeiffer, a 1956 graduate of the Lerner College; and Janet A. Smith, who received her Ed.D. degree from the College of Education and Human Development in 1995.
Speaking at the ceremony, UD President Patrick Harker said, "When I consider our eight Wall of Fame honorees, I see the University of our aspirations. I see the extraordinary talent and achievement -- the dedication to excellence -- that will attract more of the same. I see a loyal, connected alumni community that thinks of UD first. I see a legacy that will undoubtedly endure."
The ceremony opened with welcoming remarks by UD Alumni Association President Darelle Riabov, and remarks by Gelina Dun and Robert Pagels, the 2012 recipients of the UDAA's Emalea Pusey Warner Award and Alexander J. Taylor, Sr., Award, as the outstanding senior woman and man, respectively.
The Class of 2012
William C. Carpenter, Jr., earned his bachelor's degree in economics at UD and his law degree from Widener University School of Law. His career includes service as U.S. attorney for the District of Delaware from 1985-93. He was appointed to the Superior Court bench in 1993 and reappointed in 2005. Since 2003, he has served as chairman of the state of Delaware's Sentencing Accountability Commission, which oversees sentencing guidelines and polices. This August, Carpenter will become the first Delaware judge to chair the National Conference of State Trial Judges, an organization within the American Bar Association representing the interests of state trial judges throughout the country. An adjunct professor at Widener Law, he received the school's highest alumni honor in 1986.
Carpenter said the Vietnam War was at its peak when he attended. "The University provided me with the opportunity to interact with those of various points of view and to develop my own social conscience regarding the events dramatically affecting our country. This experience at the University of Delaware significantly influenced my decision to pursue a career in public service as an attorney and, ultimately, a judge."
John R. Collins earned his bachelor's degree in business administration at Delaware and received an MBA from the University of Pittsburgh's School of Business. He spent more than 22 years with Constellation Energy Group Inc. and Baltimore Gas and Electric Co., where he retired as senior vice president of integration. Since August 2011, he has served as the chief financial officer of Enduring Hydro LLC, a privately held company that provides strategic advice on and investments in hydroelectric and other clean energy generation. Collins is a founding member and former chairman of the board of the Committee of Chief Risk Officers, a group that has defined energy risk management best practices.
Calling his time at UD "the experience of a lifetime," Collins said, "Not only did the University provide me with a strong academic foundation that has been the key to my success, I met my wife at Delaware and made lifelong friendships that I will always cherish. Delaware provided a well-balanced college experience that permitted me to grow as a person and ultimately flourish academically."
Margaret Loew Craft received her master of science degree in art conservation from the Winterthur/University of Delaware Program in Art Conservation. After 18 years in private practice and service as an associate curator at Winterthur Museum and adjunct professor in the Winterthur/UD Program in Art Conversation, Craft became senior objects conservator at the Walters Art Museum in Baltimore in 2000. She has been actively involved in the American Institute for the Conservation of Historic and Artistic Works (AIC) since 1975 and currently serves as its president. In 2001, she was awarded AIC's Rutherford John Gettens Award for her outstanding service to the institute and the conservation profession. She is an associate of the International Institute for Conservation and a member at large with the United States Committee of the Blue Shield, which is committed to the protection of cultural property worldwide during armed conflict.
Craft said the Winterthur/UD Program in Art Conservation has enabled her "to have a profession that makes it a joy to go to work every day -- whether to repair an ancient Greek vase, study the authenticity of a Renaissance timepiece, monitor the climate and environment of a museum display case for an Egyptian mummy or attend a planning meeting for an art exhibition."
Scott L. Goodell graduated from UD magna cum laude with a bachelor's degree in political science and psychology and then earned his law degree from Boston College Law School. He is admitted to the bar in New Jersey, New York and Washington and is admitted to practice before the U.S. Supreme Court. After serving as a law clerk for the presiding judge of the Appellate Division of the New Jersey Superior Court, Goodell joined the New Jersey law firm of Day Pitney and then took a position as senior vice president with the Beneficial Insurance Group. He served as senior vice president, general counsel and secretary of Sedgweick Re Inc., and in 2010 accepted the position of president and chief executive officer of Energy Insurance Mutual Ltd., an energy industry mutual insurer based in Tampa, Fla. An original benefactor of the James R. Soles Citizens Endowment, he is an active supporter of UD's Center for Political Communication.
Recalling his mentor, Dr. James Soles who died in 2010, Goodell said, "To this day, I recall conversations with Prof. Jim Soles that helped shape my goals and direction in life. … He had an incredible ability to connect. His insights were invaluable, his empathy unparalleled, and his dedication to helping and inspiring students unfailing. And he did it for decades, encouraging thousands of us to challenge ourselves, strive for excellence, and always have confidence to pursue our aspirations." 
David R. Helwig received his bachelor of science degree in mechanical engineering at UD. He earned his master's degree in mechanical engineering at the University of Pennsylvania and attended the Duke University Advanced Management Program. He has nearly 40 years of leadership experience in energy related companies, including engineering, construction, operations and corporate roles. Helwig has been involved with many facets of resource development, power generation and energy delivery, as well as alternative energy and energy efficiency. Most recently, he has devoted his efforts to the creation and development of corporate enterprises with private equity backing. He serves as president of Helwig Consulting Services LLC, a general business consulting firm; executive chairman of GTL Energy; and chairman of Infrastructure and Energy Alternatives. A member of the advisory board for UD's College of Engineering, he received the college's Outstanding Alumni Award in 2000.
Helwig said, "My undergraduate experience in the College of Engineering (ME'73), UD athletics (varsity soccer) and fraternity life (Alpha Tau Omega) provided an excellent foundation for my lifelong pursuits. It taught me that focus, discipline, technical proficiency and hard work were most valuable when pursued in the context of teamwork, family values and friendships."
Evelyn Maurmeyer is the first woman to receive master's and doctoral degrees in geology from UD. After serving on the faculty at Franklin and Marshall College for three years, she formed an environmental consulting firm, Coastal Estuarine Research Inc. in Lewes, Del. The firm specializes in coastal processes investigations, beach erosion analysis, wetland projects and environmental permitting. Over the past 30 years, she has worked on a variety of coastal environmental issues, including shoreline stabilization, wetland creation and restoration and permitting for boat docking facilities, marinas and dredging projects. Maurmeyer also has worked with homeowners and small businesses to help them comply with permitting as they conduct construction projects on the waterways and coasts in Southern Delaware. An adjunct faculty member in the College of Earth, Ocean, and Environment since 1982, she shares with students how geology and oceanography intersect not only with each other but with society. She has served on the college's Dean's Advisory Council since its inception in 2009.
Maurmeyer said, "The graduate program of coastal geology at the University of Delaware provided me with the academic background and skills to prepare me for my career in environmental consulting. I am especially grateful to my graduate adviser, Dr. John C. (Chris) Kraft, who introduced me to Delaware's beaches and marshes in the 1972 summer course 'Recent Sedimentary Environments' and initiated a lifelong fascination with coastal environments."
Gordon A. Pfeiffer received his bachelor's degree in business administration from UD. From 1957-63, he served in the U.S. Army Reserve, 390th Civil Affairs Group. Pfeiffer had a 40-year career in banking that began at Farmers Bank of the state of Delaware, later Girard Bank and then Mellon Bank, from which he retired as senior vice president. Throughout the book, library and collecting world, Pfeiffer is known as a collector of book cover designers and the book arts, as well as Delaware ephemera. In 1977, he was one of the founders of the Delaware Bibliophiles, a group for book lovers and collectors, and he has served as its president and treasurer. Now he is editor of its semiannual newsletter, Endpapers. Since 1979, he has served on the board of the University of Delaware Library Associates, including a term as president. He has made substantial contributions to the University of Delaware Library, largely items from his private collection.
"The University, as well as my parents, taught me the importance of giving back to my community in areas that interested me: the arts and humanities, education, health care and good government," Pfeiffer said. "My avocation is collecting art, books and ephemera; learning and building collections and enjoying the thrill of the hunt. Since 2006 I have been contributing parts of my book collections to UD and I'm pleased they will be a part of an outstanding library."
Janet A. Smith earned her doctor of education degree at UD. She joined the UD faulty in 1979 and served as a tenured faculty member, academic administrator and coach during her 27-year career. As head coach of UD's women's lacrosse team from 1980-89, she achieved unprecedented and unduplicated national success, including three consecutive national championships: 1981 and 1982 as AIAW National Champions and 1983 as NCAA Division I National Champions in the inaugural year of NCAA competition for UD women's programs. In 1984, UD placed third in the NCAA National Championships. Throughout the 1980s, she produced nine All Americans, seven of whom made it on the national squad. She has received widespread recognition for her accomplishments in the women's lacrosse world as a player and has been inducted into numerous halls of fame on the local, regional and national levels. After leaving the coaching ranks in 1989, she was well respected as an associate professor and assistant department chair in what is now the College of Health Sciences.
Smith said, "The doctoral degree I earned from the University of Delaware provided me the opportunity to share my passion for teacher education by assisting to prepare students for their future careers as teachers of health and physical education. But, what makes the University of Delaware such a great place is the people associated with it. I have had the good fortune to work with outstanding students, collaborative colleagues, influential mentors and supportive staff."
The Alumni Wall of Fame was established by the University and the UD Alumni Association in 1984 to recognize the many notable alumni achievements.  Since the initial ceremony that year, 239 alumni have been inducted into the Alumni Wall of Fame in recognition of their professional and public service excellence.
Other Alumni Weekend resources
A general article on Alumni Weekend 2012.
An article on the "State of the University" address.
UD in Photos Alumni Weekend galleries.
Photo by Evan Krape