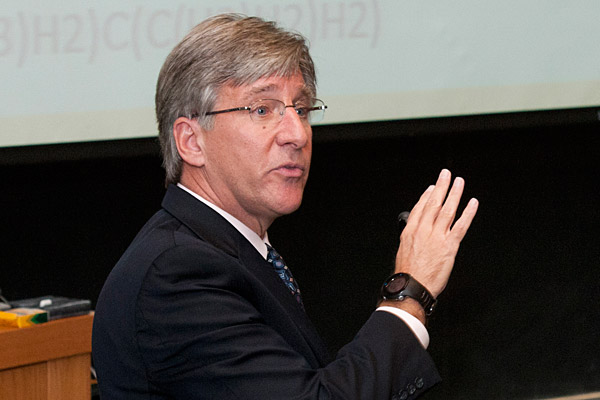 Energy symposium
Institute marshals resources for new technologies and policies
10:42 a.m., June 8, 2012--At least eight research centers and institutes on the University of Delaware campus are addressing issues related to energy and sustainability -- from fuel cells, wind and solar power to policy, processes and materials.
It's the job of the UD Energy Institute (UDEI) to support them and help establish beneficial partnerships.
Chronic wounds
UD's Millicent Sullivan and Kristi Kiick have received a $1.4 million grant from the National Institutes of Health for research that could provide a new approach to the treatment of chronic wounds.
Prof. Heck's legacy
The American Chemical Society is highlighting the legacy of the late Nobel laureate Richard Heck, the Willis F. Harrington Professor Emeritus of Chemistry at the University of Delaware with a digital tribute on its publications website.
On Wednesday, June 6, UDEI held its annual symposium at the Clayton Hall Conference Center to showcase energy-related activities, provide a forum for researchers and students to interact, and raise awareness of the potential for collaboration. 
It was no accident that half of the program was devoted to updates from organizations while the other half highlighted individual projects. 
"Our job is to support organizations and individuals and to make connections among them in order to develop integrated research teams," said Michael Klein, director of UDEI and Dan Rich Chair of Energy. "Organizations allow for integration, but it's the people who make the breakthroughs." 
At UD, some 250 researchers across four colleges are addressing various aspects of technology, materials and policy, with UDEI serving as an umbrella. Klein emphasized the need for work in the full range of energy platforms from biomass and V2G to solar hydrogen and natural gas.
"There is no silver bullet technology," he said. "We're not trying to choose a winner but rather to analyze all of the options. We have people engaged in one or more elements of a wide array of technologies, but the connections among these scholars can still be stronger. That's where UDEI comes in."
In welcoming attendees to the symposium, Mark Barteau, senior vice provost for research and strategic initiatives at UD, highlighted more than a dozen energy-related advances in Delaware over the past five years. 
These include establishing new centers at UD in fuel cell research, carbon-free power integration and catalysis for energy innovation; installing a wind turbine at the Lewes campus and a green roof on Colburn Laboratory; signing Bloom Energy as an anchor at the STAR Campus; and executing an agreement with NRG Energy.
Barteau also pointed to ongoing construction of the Interdisciplinary Science and Engineering Laboratory at the corner of Academy Street and Lovett Avenue. The $132-million facility will house UDEI, the Center for Energy and Environmental Policy and the Delaware Environmental Institute, as well as offer significant capacity for advanced materials synthesis and characterization. 
While UDEI isn't directly responsible for all of these developments, Barteau said, the institute can take credit for fostering partnerships and focusing legislative efforts. 
"It's critical that we all remain engaged in trying to sculpt at least some elements of a national energy policy," he said.
In addition to UD, symposium attendees came from Delaware Technical and Community College, Widener University School of Law and a number of government agencies, companies and utilities.
Five technical talks and 15 posters rounded out the program. The one-day event finished with a fuel-cell bus tour of several energy-related installations at UD, including Bloom's future location on the STAR Campus, solar panels on the Field House, the ISE Lab and Colburn Lab's biodiesel facility and green roof.
About UDEI
The University of Delaware Energy Institute was established in 2008 to marshal and expand the University's science, engineering and public policy expertise in new and emerging energy technologies and, with its industry and government partners, to use this research to address the entire spectrum of challenges posed by future energy needs. 
UDEI's roles include evaluating and creating needed energy information, building teams for required research improvements, providing the bases for decision making, serving as a point of contact, supporting associated energy centers and institutes, and disseminating information through a website, annual symposia and workshops focused on specific technologies and issues.
An upcoming series of UDEI workshops will address the following topics: fuel cells (October 2012), photovoltaics (February 2013), wind energy (May 2013) and integrated solutions (October 2013).
Related Energy Centers
Prominent UD research units conducting energy-related research include
Consortium for Advanced Magnets
Article by Diane Kukich
Photo by Lane McLaughlin