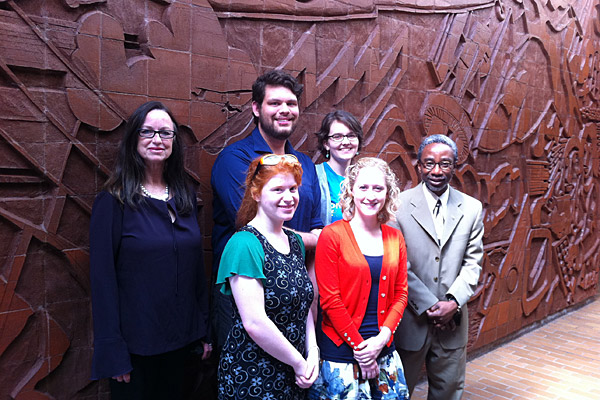 Mural celebrated
Preservation work completed on piece in Spencer Lab
4:07 p.m., June 8, 2012--After 420 hours of meticulous work, a terra cotta mural that adorns the entrance hallway of Spencer Lab on the University of Delaware campus has been restored to its original appearance.
Those involved in the project held a small celebration in May to mark the successful completion of their work. In attendance was Lindsey Felch, daughter of artist and UD alumnus Bernard Felch, who created the mural in 1983.
From graduates, faculty
As it neared time for the processional to open the University of Delaware Commencement ceremonies, graduating students and faculty members shared their feelings about what the event means to them.
Doctoral hooding
It was a day of triumph, cheers and collective relief as more than 160 students from 21 nations participated in the University of Delaware's Doctoral Hooding Convocation held Friday morning on The Green.
Current and former art conservation students carried out the work, cleaning the piece with a special solvent designed to remove its glossy coating, which had become cloudy and dull over the years, and replacing it with a "breathable" coating. A leaky skylight in the building, which houses the Department of Mechanical Engineering, had caused additional damage to the mural.
The 10-by-25.5-foot piece, made of carved clay blocks, traces the history of aeronautics in the 20th century. 
Kaitlin Andrews, a 2011 art conservation and art history graduate, who now works at Winterthur Museum, supervised much of the work on the mural, putting in some 320 hours of her own.
Photo courtesy of Joyce Hill Stoner