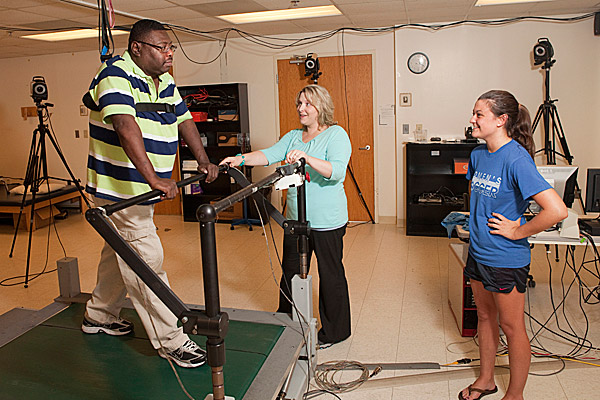 Exemplary PT education
UD Department of Physical Therapy chosen for national study
10:14 a.m., June 18, 2012--The University of Delaware's Department of Physical Therapy has been chosen through a national nomination process as one of four exemplar sites participating in a national study of physical therapist education.  
The study, "Physical Therapist Education for the 21st Century (PTE-21): Innovation and Excellence in Physical Therapist Academic and Clinical Education," is funded by the American Physical Therapy Association.
From graduates, faculty
As it neared time for the processional to open the University of Delaware Commencement ceremonies, graduating students and faculty members shared their feelings about what the event means to them.
Doctoral hooding
It was a day of triumph, cheers and collective relief as more than 160 students from 21 nations participated in the University of Delaware's Doctoral Hooding Convocation held Friday morning on The Green.
The four clinical and academic sites were chosen for their innovation and excellence in physical therapist education.
UD's program will be studied by a five-person research team sometime during the 2012-13 academic year. Gail Jensen, professor at Creighton University Medical Center in Omaha, Neb., is the lead researcher on the project.
The findings from the four initial sites will identify elements of excellence and innovation in physical therapist education and provide preliminary evidence for a larger national survey study involving more institutions.
"We're really proud to be part of this exciting research," said department chair Stuart Binder-Macleod. "Our students benefit tremendously from our strong research foundation, which allows us to provide evidence-based care for the patients in our clinics. The clinics, in turn, provide a valuable learning environment for our students. I think one of the keys to our successful DPT program is that everything — from the classroom to the clinic to the lab — is linked and integrated."
About UD Physical Therapy
UD's physical therapy program was recently ranked second in the nation by U.S. News and World Report.  The department boasts a 100 percent job placement rate for its graduates.
Research funding totals almost $19 million, with the bulk of the support coming from the National Institutes of Health and the National Science Foundation.  The research addresses a broad array of issues from pediatric mobility and lower back pain to knee injuries and stroke rehabilitation. 
The doctorate in physical therapy (DPT) program is complemented by the interdisciplinary Biomechanics and Movement Science (BIOMS) program, with many students earning both DPT and Ph.D. degrees.
About APTA
The American Physical Therapy Association (APTA) is an individual membership professional organization representing more than 80,000 member physical therapists (PTs), physical therapist assistants (PTAs) and students of physical therapy. APTA seeks to improve the health and quality of life of individuals in society by advancing physical therapist practice, education, and research, and by increasing the awareness and understanding of physical therapy's role in the nation's health care system.
Article by Diane Kukich
Photo by Ambre Alexander